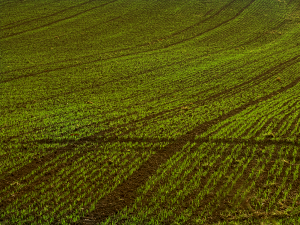 Manitoba Agriculture
Crop Report
June 6, 2023
Northwest Region
A week of showers/thunderstorms, high temperatures and high relative humidity contributed to a mixed week. While the high temperatures and soil moisture encouraged rapid crop growth, some extreme precipitation events (localized) caused some damage in areas. Storms early in the week brought large amounts of rain in a short period of time to Gilbert Plains and Ashville area.The weekend saw a couple more events bring large amounts of precipitation with two storms moving through an area just south of Swan River. Overland flooding, high water levels and road washouts occurred in these areas. Some fields were cut from waterflow.
Spring wheat across the region sits at approximately 98% complete. Majority of spring crop has emerged and looks uniform. In-crop herbicide application has begun where appropriate stages have been reached. Pea seeding is complete and emergence looks good and is uniform. Current staging is at the third to fourth node stage. Soybean seeding is complete across the region. Recent rainfall and high temperatures have moved crops along with most fields at the unifoliate growth stage. Canola seeding is approximately 90% complete. Earliest seeded canola is approx. two leaf stage, while remainder of the canola crop continues behind. Earlier seeded fields are starting to see some flea beetle pressure and some requiring control. Winter wheat and fall rye are looking good and advancing with the exception in the Swan Valley, where areas that received heavy rains have flattened parts of the field.
Provincial Overview
Good emergence is being reported on spring cereals and field peas. Cereals are moving along rapidly with fall rye fields fully headed out. Crops have shown rapid development and remain in good condition except for some later seeded fields demonstrating uneven emergence due to topsoil dryness. Soybean planting near completion with just a few isolated fields left to be seeded. Canola ranged from germinating/emerging to the late two leaf stage for the earliest seeded crop. Growers continued to monitor fields for flea beetles and remained concerned that the hot, dry weather would make canola seedlings less able to withstand insect damage.