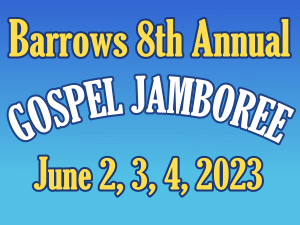 Submitted by:
Violet Plett |
Barrows 8th Annual
Gospel Jamboree
at Barrows, MB
June 2, 3, 4, 2023
Fri. 6pm – 9pm
Sat. 10am – 9pm
Sun. 10am – 6pm

Come and enjoy the ministry of invited musicians for a weekend of Gospel Music.
Musicians to be announced at a later date.
This is not an open coffee house type of Jamboree, however there may be some time on Saturday or Sunday for local Gospel talent.
Concession Booth on site for the whole weekend starting at 5 on Friday
Pancake Breakfast Saturday and Sunday at 9am
Homemade Supper Specials
Free RV Parking (no hook-ups)
Rooms available in surrounding towns
Bring your own lawn chairs
No cell service or phone service on site so call ahead if you want information.
Free will offering
In case of inclement weather, Jamboree will move to the Community Hall
For more information, contact:
Mary Spence 204-545-6243
Melvin & Violet Plett 204-545-2375 cell: 204-281-3019