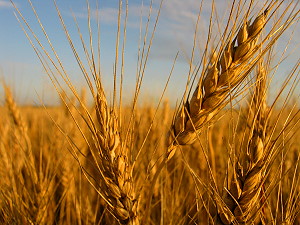 Manitoba Agriculture
Crop Report
August 23, 2022
Northwest Region
Generally a good week of growing conditions, with over night temperatures staying above 10 ° with the exception of Ste. Rose, Rorketon, and Reedy Creek areas Daytime temp eratures were high over the weekend. Warm temperatures have helped push crops towards maturit y. Scattered showers mid week brought hail to areas north of Swan River damage is still being assessed. Precipitation in Dauphin, Drifting River, and Ethelbert areas amounted to 15 mm, while Alonsa received 43 mm accumulated rainfall.
Fall rye harvest has begun in the Dauphin area, with very good yields reported. A limited start to field pea harvest is underway with no yields reported to date. Desiccation is ongoing in that crop. Insecticide applications for Lygus bug control have continued in the Swan Valley on canola crops, while grasshoppers remain a concern towards the Dauphin and Ste. Rose areas.
Provincial Overview
Harvest has started in winter wheat and fall rye, with a good portion of those crops already combined. Reported yields are average for both crops, falling numbers are good in rye crops harvested prior to heavy rains last week, and no results yet on crop yet to be combined.
Crop condition looks good to very good in most parts of the province, field pea harvest has begun in the Northwest and Southwest regions, and widespread harvest is expected to begin for spring cereals in about two weeks, with some early spring wheat, barley, and oats coming off in the past few days in the Central Region.
Early spring wheat harvest indications in the Eastern and Central regions are showing CWRS (Canadian Western Red Spring Wheat) protein ranging between 12.5 to 14.3%, with good falling numbers and slightly higher FDK (fusarium damaged kernels) than recent years, but low DON (deoxynivalenol) levels, and mostly grading № 1 CWRS.
High humidity and frequent rain showers are slowing cereal and pea crop drydown, despite warm sunny days. A cooler, wetter forecast for the remainder of August has farms reconsidering swathing in favour of a pre-harvest aid or straight cutting in cereals.
The Manitoba Hay Listing Service is active; producers with extra feed or looking for feed are encouraged to list their available supplies for sale.