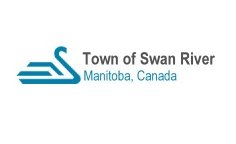 The Council of the Town of Swan River met on Tuesday, May 17, 2022 at 7:30 pm in the Town Council Chambers with Mayor Jacobson presiding along with Deputy Mayor Wintoniw and Councillors Moriaux, Friesen, Bobick, and Whyte.
Also Present:
CAO D. Poole, CFO T. Gnida, Fire Chief D. Fedorchuk, Dir. of Works D. Harvey, Dir. of Recreation B. Fedorchuk
Public Hearing Attendees:
Delegation Attendees:
Media: Jeremy Bergen, Star and Times
1. Call meeting to order
Mayor Jacobson called the meeting to order at 7:30.
2. Adoption of the Agenda
Resolution No: 2022-0246
Moved By: Duane Whyte
Seconded By: Johnny Wintoniw
RESOLVED that the agenda for the May 17, 2022 regular meeting of Council be adopted.
Carried
3. Confirmation of the minutes
Resolution No: 2022-0247
Moved By: Don Bobick
Seconded By: Johnny Wintoniw
RESOLVED the minutes of the May 3, 2022 regular council meeting be approved.
Carried
4. Reception of Delegations and Hearings
5. Reception of Petitions
6. Communications
6.1 Thank You Letter from Bowsman Lions
Resolution No: 2022-0248
Moved By: Duane Whyte
Seconded By: Johnny Wintoniw
RESOLVED the Letter from the Bowsman and District Lions be received.
Carried
6.2 To receive building permit applications
Resolution No: 2022-0249
Moved By: Duane Whyte
Seconded By: Phylis Friesen
RESOLVED that Building Permits 11/22 through 16/22 with a total estimated value of $5,576,800 be received.
Carried
7. Reports of Committees
7.1 Director of Public Works Report
Resolution No: 2022-0250
Moved By: Phylis Friesen
Seconded By: Don Bobick
RESOLVED the Director of Public Works report be received.
Carried
7.2 Handivan Report for April 2022
Resolution No: 2022-0251
Moved By: Don Bobick
Seconded By: Phylis Friesen
RESOLVED that the April 2022 Swan River Handi-Transit Van Report be received.
Carried
7.3 Council and CAO Reports
8. New Business
8.1 Proposal to Subdivide – SP LOT 17 PLAN 3203.5
Resolution No: 2022-0252
Moved By: Johnny Wintoniw
Seconded By: Duane Whyte
RESOLVED that the report to council regarding the subdivision of SP LOT 17 PLAN 3203.5 from the Community Planning Branch be received.
Carried
8.2 To receive SV Veterinary Services District 2021 financial statements
Resolution No: 2022-0253
Moved By: Johnny Wintoniw
Seconded By: Duane Whyte
RESOLVED that the Swan Valley Veterinary Services District Financial Statements for the Year Ended December 31, 2021 be received.
Carried
8.3 To receive email from Vet Services District re establishing a reserve
Resolution No: 2022-0254
Moved By: Phylis Friesen
Seconded By: Don Bobick
RESOLVED that the email dated May 7, 2022 from the Swan Valley Veterinary Services District, advising that a resolution was passed to establish a Reserve for Major Capital Projects and Repairs and to transfer monies to the reserve, be received.
Carried
8.4 To accept the 2022 Northwest Regional Library Budget
Resolution No: 2022-0255
Moved By: Phylis Friesen
Seconded By: Johnny Wintoniw
RESOLVED that the North-West Regional Library 2022 budget be accepted as received.
Carried
8.5 Land Sale – Tobin – Offer to Purchase – 214 Athlone Street
Resolution No: 2022-0256
Moved By: Johnny Wintoniw
Seconded By: David Moriaux
RESOLVED that the Town of Swan River sell 214 Athlone Street, Lot 11 Plan 1070, to Dwayne and Jeanette Tobin for $7,800.00.
Carried
8.6 Rural Week – Pool Pass
Resolution No: 2022-0257
Moved By: Duane Whyte
Seconded By: Phylis Friesen
WHEREAS Prairie Mountain Health is participating in the Rural Week program from May 30th to June 3rd, 2022 which will bring two nursing students to Swan River;
THEREFORE BE IT RESOLVED THAT the Town of Swan River grant to the Students day passes for the pool for up to $60.00.
Carried
8.7 Grant Request for Swan Valley Youth Baseball U15 Rural A Baseball Provincials
Resolution No: 2022-0258
Moved By: Duane Whyte
Seconded By: Phylis Friesen
RESOLVED that a grant for the Swan Valley Youth Baseball providing $1,731.45 to cover rental fees at Legion Park for the three baseball diamonds, washrooms, and concession for July 8th to the 10th Provincials be approved for payment.
Carried
9. Unfinished Business
9.1 Ukraine- Support
Resolution No: 2022-0259
Moved By: Duane Whyte
Seconded By: Don Bobick
WHEREAS on February 24th, 2022 after months of troop and military equipment build-up, Russia began offensive attacks on sovereign Ukraine, threatening their formed democracy;
AND WHEREAS these Russian troops have been met with strong and courageous opposition from the Ukrainian military and citizen-resistance;
THEREFORE BE IT RESOLVED THAT the Town of Swan River condemn the Russian invasion of Ukraine, stand with all Ukrainians, and show its support for Ukrainian citizens fleeing their homes and country to be welcomed in Canada, Manitoba, and the Swan River Valley.
BE IT FURTHER RESOLVED THAT the Town of Swan River provide support to the North West Regional Immigrant Services Inc. with a grant in the amount of $2,000.00 to go directly to affected immigrant Ukrainian families in the Swan River Valley.
Carried Unanimously
10. Accounts
10.1 To approve accounts
Resolution No: 2022-0260
Moved By: Don Bobick
Seconded By: Johnny Wintoniw
RESOLVED THAT the accounts as follows be hereby approved for payment:
1. General Account Cheques No. 28862 to No. 28894 totaling $308,882.92 as listed on Schedule A.
2. Payroll Account Cheques No. 5091 to No. 5098 totaling $93,217.96 as listed on Schedule B.
3. Direct Deposits totaling $13,450.24 as listed on Schedule C.
Carried
10.2 To approve payment of the 2022 North-West Regional Library levy
Resolution No: 2022-0261
Moved By: Phylis Friesen
Seconded By: Johnny Wintoniw
RESOLVED that the 2022 North-West Regional Library levy in the amount of $98,142.30 be approved for payment once the Audited Financial Statements for the Year Ended December 31, 2021 have been received.
Carried
10.3 To approve assessment alterations
Resolution No: 2022-0262
Moved By: Johnny Wintoniw
Seconded By: David Moriaux
WHEREAS Subsection 300(6) of The Municipal Act provides that a municipality may cancel or reduce taxes upon receipt of assessment alterations from Manitoba Assessment Services;
THEREFORE BE IT RESOLVED that the assessment reductions made by Manitoba Assessment Services on May 9th, 2022 for the 2021 Tax Year totaling $1,260.98 be made to the Property Tax Roll.
Carried
10.4 To add unpaid utility accounts to taxes
Resolution No: 2022-0263
Moved By: Johnny Wintoniw
Seconded By: David Moriaux
RESOLVED THAT the following unpaid utility accounts be added to the corresponding property tax rolls and notice be sent to each property owner detailing the amount being added to the taxes and advising that interest will accrue on said amount in the same manner as for unpaid property taxes effective June 1st, 2022 as per Schedule A, totalling $11,432.78
Carried
10.5 To adopt the April 2022 financial statements
Resolution No: 2022-0264
Moved By: Johnny Wintoniw
Seconded By: Don Bobick
RESOLVED that the Financial Statements for the Four Months Ending April 30th, 2022 be adopted as received.
Carried
11. By-Laws
11.1 Second reading – By-Law 4/2022 – Special Service Residential Waste and Recycling
Resolution No: 2022-0265
Moved By: Johnny Wintoniw
Seconded By: Phylis Friesen
RESOLVED that By-Law No. 4/2022, being a by-law of the Town of Swan River to establish a rate for the collection of residential waste and recycling material as a special service for the Town of Swan River for 2022, be read a second time.
Carried
11.2 Second reading – By-Law 5/2022 – Special Service Police Protection
Resolution No: 2022-0266
Moved By: Johnny Wintoniw
Seconded By: David Moriaux
RESOLVED that By-Law No. 5/2022, being a by-law of the Town of Swan River to establish a rate for Police Protection as a special service for the Town of Swan River for the years 2022 and 2023 both inclusive, be read a second time.
Carried
11.3 Second reading – By-Law 6/2022 – Other Special Services
Resolution No: 2022-0267
Moved By: Duane Whyte
Seconded By: Phylis Friesen
RESOLVED that By-Law No. 6/2022, being a by-law of the Town of Swan River to establish a rate for the following Special Services: Fire Protection, Street Lighting, Street Cleaning, Sidewalks and Boulevards, Ditches and Drainage, Doctor Recruitment, Snow Removal and Dust Control, Road Maintenance and Reconstruction, and Emergency Measures, for the Town of Swan River for the years 2022 and 2023 both inclusive, be read a second time.
Carried
11.4 Third reading – By-Law 4/2022 – Special Service Residential Waste and Recycling
Resolution No: 2022-0268
Moved By: Duane Whyte
Seconded By: Don Bobick
RESOLVED that By-Law No. 4/2022, being a by-law of the Town of Swan River to establish a rate for the collection of residential waste and recycling material as a special service for the Town of Swan River for 2022, be read a third time and passed.
Don Bobick – yes
Jason Delaurier – absent
Phylis Friesen – yes
Lance Jacobson – yes
David Moriaux – yes
Duane Whyte – yes
Johnny Wintoniw – yes
Carried Unanimously
11.5 Third reading – By-Law 5/2022 – Special Service Police Protection
Resolution No: 2022-0269
Moved By: Johnny Wintoniw
Seconded By: Phylis Friesen
RESOLVED that By-Law No. 5/2022, being a by-law of the Town of Swan River to establish a rate for Police Protection as a special service for the Town of Swan River for the years 2022 and 2023 both inclusive, be read a third time and passed.
Don Bobick – yes
Jason Delaurier – absent
Phylis Friesen – yes
Lance Jacobson – yes
David Moriaux – yes
Duane Whyte – yes
Johnny Wintoniw – yes
Carried Unanimously
11.6 Third reading – By-Law 6/2022 – Other Special Services
Resolution No: 2022-0270
Moved By: Duane Whyte
Seconded By: Phylis Friesen
RESOLVED that By-Law No. 6/2022, being a by-law of the Town of Swan River to establish a rate for the following Special Services: Fire Protection, Street Lighting, Street Cleaning, Sidewalks and Boulevards, Ditches and Drainage, Doctor Recruitment, Snow Removal and Dust Control, Road Maintenance and Reconstruction, and Emergency Measures, for the Town of Swan River for the years 2022 and 2023 both inclusive, be read a third time and passed.
Don Bobick – yes
Jason Delaurier – absent
Phylis Friesen – yes
Lance Jacobson – yes
David Moriaux – yes
Duane Whyte – yes
Johnny Wintoniw – yes
Carried Unanimously
12. Notice of Motion
13. In Camera
Resolution No: 2022-0271
Moved By: Don Bobick
Seconded By: Duane Whyte
RESOLVED that, pursuant to Section 152(3) of the Municipal Act, Council go into Committee and close the meeting to the public.
Purchase Services
Land Sale Agreement – 210 3rd Ave South
RCMP
Carried
14. Out of Camera
Resolution No: 2022-0272
Moved By: Duane Whyte
Seconded By: Phylis Friesen
RESOLVED that pursuant to Sections 152(4) of the Municipal Act this meeting be reopened to the public.
Carried
15. Items Arising out of Camera
16. Adjournment
Resolution No: 2022-0273
Moved By: Phylis Friesen
Seconded By: Don Bobick
RESOLVED that this regular meeting of Council now adjourn at 9:47pm.
Carried