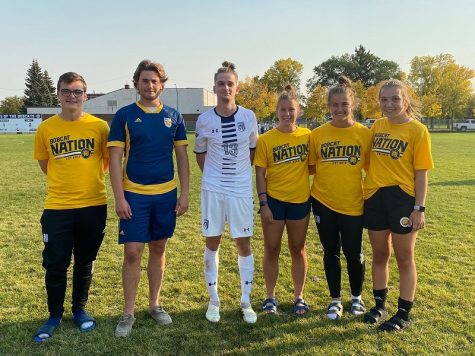 Left to Right: Morgan Terry, Kristen Bender, Sean Kirkpatrick, Ireland Staples, Sierra Makasoff, Josie Black
Submitted by: Lise Fraser |
There are seven graduated students athletes from the Swan Valley Regional soccer program currently playing in the Manitoba Collegiate University league. At Assiniboine Community College: Hailey Burghart. Brandon University: Kristen Bender, Morgan Terry, Josie Black, Sierra Makasoff, Ireland StaplesProvidence University: Sean Kirkpatrick
Brandon University Men's and Women's Soccer teams hosted Providence University on Saturday, September 18th and Swan Valley was well represented in these games.
In the Women's match at 1:00 on Saturday, the host team, Brandon University controlled the play with their crisp, accurate passes. Much of the play was spent in the Providence end of the field. Josie Black played goal for Brandon in the 2nd half of the game and made several saves. Sierra Makasoff scored the third and final goal of the game for Brandon as the final score was 3-0 for the home team.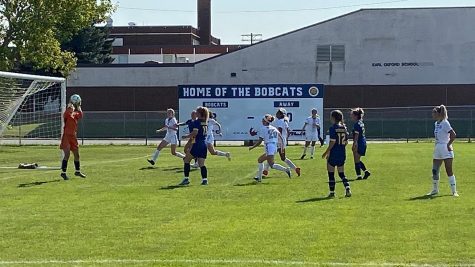 Josie Black makes a save on a Providence free kick.
In the Men's match later in the afternoon the host team, Brandon University and Providence had a much closer result. In the first half, Brandon had multiple attempts at scoring but good defensive play and strong goal tending from Providence kept the home team off the scoreboard for most of the half. Brandon scored the lone goal of the half from a free kick. In the 2nd half of the game Providence made some changes, moving Kirkpatrick from a defensive role to striker which opened the game up considerably. The front three from Providence were able to produce multiple scoring chances. Providence scored the equalizer on a corner kick shortly into the 2nd half when #11 for Prov headed the ball past the goalkeeper.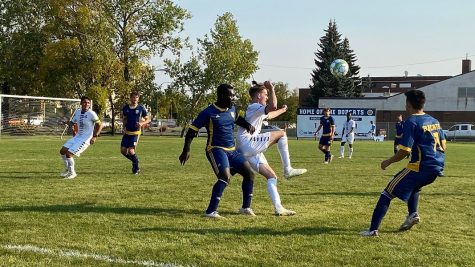 Sean Kirkpatrick battling for position to receive the pass.
Providence continued the offensive pressure for the remainder of the game with the forwards breaking away from the defenders, free kicks and corner kicks. In the final minute of the game, Providence scored on another corner kick which went off a Brandon defender and into the net. The final score was 2-1 for Providence.
These teams will have a re-match on September 26th when Providence University hosts Brandon University. The result of that game will no doubt be close as well.