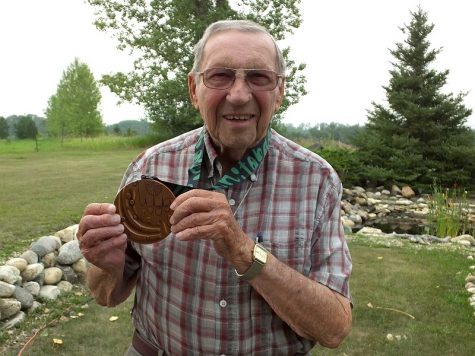 Earlier this year, it was announced that local resident Dave Theunissen was one of the Honourees of Manitoba's Honour 150 program, part of Manitoba's 150th Anniversary celebrations.
Dave Theunissen Local Recipient Of Honour 150
Theunissen was presented with his Honour 150 Medal during a small ceremony at his residence on July 31, 2021.
Theunissen was nominated by the Swan Valley Animal Protection League (SVAPL) for the Manitoba Honor 150 for Volunteerism in the community. "Dave has been extremely active in the Swan River Valley for many, many years as a volunteer in many capacities as well as with SVAPL,"said SVAPL President, Sherry Markle. "We are very proud today to be able to present him with the plaque and the medal." Theunissen's son, Bob, was in attendance and had the honour of presenting the medal.
"I want to thank the animal protection league, for this honor that has been bestowed upon me," said Theunissen. "I didn't expect it."
Swan River MLA Rick Wowchuk was also in attendance and presented Theunissen with a certificate of recognition for the Manitoba Honour 150 award as well as a certificate for Theunissen's 90th birthday in 2020.