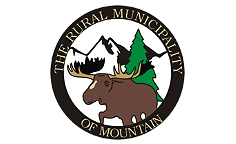 Minutes of the Regular Meeting of Council of the Rural Municipality of Mountain held Wednesday, June 9th, 2021 via video conference.
Members Present:
Reeve: Robert Hanson
Councillors: Wilmer Malcolm, Steve Nadolney, Nestor Rizok, Connie Forbes, Arnie Pedersen and Brad Wyatt.
CAO Paige Wozny was present and acted as secretary.
Finance Officer Kim Paterson was also present.
1. Call to Order
The meeting was called to order at 9:30 a.m. by Reeve Robert Hanson, quorum being present.
2. Adoption of Agenda
Resolution No: 2021/195
Moved By: Stephen Nadolney
Seconded By: Nestor Rizok
BE IT RESOLVED THAT the Agenda for the June 9th, 2021 Regular Meeting of Council be adopted as presented.
For: 7 Against:
CARRIED UNANIMOUSLY
3. Matters Arising from Minutes
Resolution No: 2021/196
Moved By: Nestor Rizok
Seconded By: Brad Wyatt
BE IT RESOLVED THAT the Minutes of the regular meeting of Council held May 26th, 2021 be adopted as presented, all requirements having been complied with.
For: 7 Against:
CARRIED UNANIMOUSLY
4. By-Laws & Policies
4.1 Fire Prevention and Emergency Services By-Law
Resolution No: 2021/197
Moved By: Connie Forbes
Seconded By: Wilmer Malcolm
BE IT RESOLVED THAT By-Law No. 05/2021, being the Fire Prevention and Emergency Services By-Law for the Rural Municipality of Mountain, be given first reading.
For: 7 Against:
CARRIED UNANIMOUSLY
4.2 Fire Prevention and Emergency Services By-Law
Resolution No: 2021/198
Moved By: Arnie Pedersen
Seconded By: Brad Wyatt
BE IT RESOLVED THAT By-Law No. 05/2021, being the Fire Prevention and Emergency Services By-Law for the Rural Municipality of Mountain, be given second reading.
For: 7 Against:
CARRIED UNANIMOUSLY
4.3 Notice of Motion
Resolution No: 2021/199
Moved By: Wilmer Malcolm
Seconded By: Brad Wyatt
WHEREAS Council reviewed the appeal of L & D Chartrand on April 28th, 2021 and confirmed the charges as per the current Fire Department Rates Policy;
AND WHEREAS since such date Council has reviewed such policy and are working to make adjustments;
THEREFORE BE IT RESOLVED THAT Council of the Rural Municipality of Mountain hereby recind resolutions No. 2021/150 and address such situation once the new policy has been adopted.
AND FURTHER BE IT RESOLVED THAT any other invoices issued under the fire department rates policy to which have been appealed be hereby recinded and will be addressed once the new policy is adopted.
For: 7 Against:
CARRIED UNANIMOUSLY
5. Financial
5.1 Financial Statements: Review
5.2 Taxes Added/Cancelled
Resolution No: 2021/200
Moved By: Stephen Nadolney
Seconded By: Connie Forbes
BE IT RESOLVED THAT Council of the Rural Municipality of Mountain hereby add or cancel the following taxes, based on the recommendations from the Manitoba Assessment Branch:
| | | | |
| --- | --- | --- | --- |
| Property Tax Year | Roll Number | Added | Cancelled |
| 2020 | 301141.000 | | $48.88 |
| 2021 | 301141.000 | | $195.55 |
| 2021 | 138100.000 | | $53.56 |
| 2021 | 300792.000 | | $17,077.26 |
| 2021 | 257500.000 | | $1,437.36 |
| 2021 | 300528.000 | | $149.79 |
| 2021 | 300657.000 | | $86.07 |
| 2021 | 300801.000 | | $435.08 |
| 2021 | 301836.000 | | $26.98 |
| 2021 | 302036.000 | | $80.39 |
| 2021 | 25700.000 | | $679.19 |
| 2021 | 257550.000 | $1,551.18 | |
| 2021 | 56000.000 | $382.31 | |
| 2021 | 301964.000 | $9,092.18 | |
5.3 Recreation Commission Payments
Resolution No: 2021/201
Moved By: Stephen Nadolney
Seconded By: Nestor Rizok
BE IT RESOLVED THAT Council of the Rural Municipality of Mountain hereby approve the 2021 Recreation Commission payments for Bellsite, Mafeking and Cowan in the amount of $1,500.00 each.
For: 7 Against:
CARRIED UNANIMOUSLY
5.4 2021 Gravel Crushing Contract
Resolution No: 2021/202
Moved By: Nestor Rizok
Seconded By: Arnie Pedersen
BE IT RESOLVED THAT Council of the Rural Municipaltiy of Mountain hereby approve the payment of additional clearing work at the Birch River Pit to a maximum of $6000.00, to be paid from Wards 4, 5, and 6.
For: Against: 7
DEFEATED
5.5 2020 Financial Statements: SV RISE Removal
Resolution No: 2021/203
Moved By: Nestor Rizok
Seconded By: Arnie Pedersen
BE IT RESOLVED THAT Council of the Rural Municipality of Mountain hereby do confirm that the municipality takes no responsiblity or financial interest in the Swan Valley Regional Initiative for a Strong Economy.
For: 7 Against:
CARRIED UNANIMOUSLY
5.6 LUD of Birch River Tractor
Resolution No: 2021/204
Moved By: Wilmer Malcolm
Seconded By: Nestor Rizok
BE IT RESOLVED THAT Council of the Rural Municipality of Mountain hereby authorize the purchase of Case tractor for the LUD of Birch River in the amount of $19,000.00.
For: 7 Against:
CARRIED UNANIMOUSLY
5.7 Spay/Neuter Program
Resolution No: 2021/205
Moved By: Brad Wyatt
Seconded By: Wilmer Malcolm
WHEREAS Council approved the Spay and Neuter Program with the SV Vet Clinic in the amount of $1000, which has been spent to date;
THEREFORE BE IT RESOLVED THAT Council of the Rural Municipality of Mountain hereby extend the Spay and Neuter Program to be a year round annual program with both the SV Vet Clinic and Ethelbert Vet Clinic.
For: 7 Against:
CARRIED UNANIMOUSLY
5.8 Birch River Fire Hall
Resolution No: 2021/206
Moved By: Wilmer Malcolm
Seconded By: Nestor Rizok
BE IT RESOLVED THAT any work completed on the Birch River Fire Hall from this date forward shall be at the Fire Fighter wage rate.
For: 7 Against:
CARRIED UNANIMOUSLY
5.9 Accounts Payable
Resolution No: 2021/207
Moved By: Connie Forbes
Seconded By: Stephen Nadolney
BE IT RESOLVED THAT Cheque Nos.20210562 to 20210639 be approved for payment in the amount of $108,967.07, including Council Indemnities in the amount of $5,785.53 as per By-Law 03/16 and Direct Deposit Payroll in the amount of $9,619.62 as attached hereto as Schedule 'A';
AND FURTHER IT BE RESOLVED THAT the direct payment amount of $7,252.66 for Receiver General for May 2021 be hereby approved.
For: 7 Against:
CARRIED UNANIMOUSLY
6. Personnel
6.1 LUD of Birch River Public Works Employee: Advertise
7. Ward Reports & Work Orders
Resolution No: 2021/208
Moved By: Stephen Nadolney
Seconded By: Nestor Rizok
BE IT RESOLVED THAT Council of the Rural Municipality of Mountain hereby approve work orders #33/2021 to #34/2021 attached hereto.
For: 7 Against:
CARRIED UNANIMOUSLY
8. Meeting Attendance and Reports
9. General Business
9.1 Waste Disposal Closures: Advertise
9.2 MTS Right of Way Application
Resolution No: 2021/209
Moved By: Stephen Nadolney
Seconded By: Nestor Rizok
BE IT RESOLVED THAT the Rural Municipality of Mountain hereby approve the Municipal Right of Way Application #MA21079, dated May 31st, 2021 for the SE 16-40-25W and SW 15-40-25W;
AND THAT the Chief Administrative Officer is hereby authorized to sign on behalf of the Rural Municipality of Mountain.
For: 7 Against:
CARRIED UNANIMOUSLY
9.3 Mountain North Gravel Lease: Discussion
9.4 South Mountain Ent. Contract and Performance: Discussion
9.5 Birch River Pool: Await New COVID 19 Restrictions
10. Communications
10.1 Changes to the Planning System: Appeals
10.2 National Wall of Rememberance
Resolution No: 2021/210
Moved By: Stephen Nadolney
Seconded By: Nestor Rizok
BE IT RESOLVED THAT the Rural Municipality of Mountain hereby authorize advertising towards the National Wall of Rememberance in the amount of $250.00.
For: 7 Against:
CARRIED UNANIMOUSLY
10.3 AMM Water Management Resolution: Review
11. Adjournment
Resolution No: 2021/211
Moved By: Connie Forbes
Seconded By: Brad Wyatt
BE IT RESOLVED THAT the Regular Meeting of Council of the Rural Municipality of Mountain be adjourned to meet again on June 23rd, 2021.
Meeting adjourned at 11:50 a.m.
For: 7 Against:
CARRIED UNANIMOUSLY