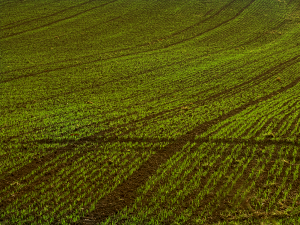 Northwest Region Crop Report Prepared by: Manitoba Agriculture
June 8, 2021 |
Northwest Region
There was an extreme weather change for this week as temperatures rose well above the 30°C mark compared to the frost events and cool temperatures the previous week. These high temperatures along with high winds caused stress on crops. With the exception of The Pas where rainfall over the weekend resulted in an accumulation of 10mm, the rest of the region had light localized showers that did not result in significant precipitation. With the heat, weeds are growing fast, however heat and wind is challenging herbicide and insecticide applications. Last weeks' wind and heat dried soil out even further with surface moisture conditions in many parts of the region rated as dry. Lighter soils are more affected and are showing signs of lack of moisture.
Seeding is generally complete throughout the region with producers finishing the last few acres or where reseeding is taking place. There is some canola being reseeded due flea beetle damage, especially in the Swan River area.
Wheat is emerging nicely in the region with 90% in the seedling/tillering growth stage. Nearly all other spring cereals, barley and oats, are in the same growth stage. Cereals are withstanding the heat, wind and dry conditions better than the canola and are generally in good to excellent condition.
Peas are growing and emerging well and are in excellent condition. In the Swan River area, 30% are in the vegetative stage with peas further along in the Roblin area with 100% in the vegetative stage.
Canola has been the most affected by the high heat and high winds over the last week. Flea beetles have been actively feeding with some producers making the decision to reseed severely affected fields. Wind and high temperatures have made insecticide and herbicide applications challenging.
Pheromone baited traps for diamondback moth monitoring are out in fields throughout the region. There are some moths showing up in traps around Grandview and north of Roblin however, numbers remain low. Flea beetles have been actively feeding on emerged canola; windy conditions have moved their feeding down to the canola stems. Feeding damage has resulted in reseeding activity primarily in the Swan River area.
Producers are starting to move cattle to summer grazing although pasture growth is still slow. More moisture would be welcome for more heightened growth and continuation throughout the grazing season. Dugouts and water supplies remain low. Alfalfa fields under good fertility and management are progressing well. Grasshoppers are starting to appear and should be monitored.