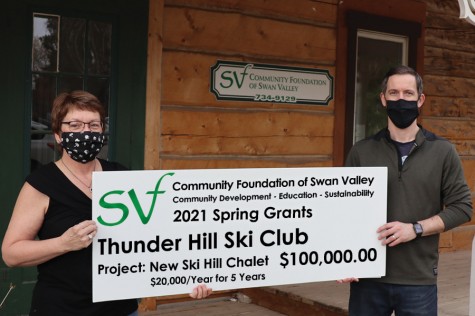 Community Foundation of Swan Valley (CFSV) normally holds a spring granting evening this time of year. With COVID-19 restrictions still limiting public gatherings, the group held a 'drive-up' event to showcase the wonderful projects either happening or planned for the Swan Valley. The event was not open to the public but rather the grant recipients from fall 2020 and spring 2021 attended an outdoor time slot for a photo opportunity with Directors from the CFSV Board.
All in attendance gave thanks to the CFSV for their support to a variety of local projects. In total $46,500 in new grants for spring 2021 were handed out. To date, the foundation has awarded just over $949,000 back to the community in just over 16.5 years of giving.
This year's spring grant recipients are:
• Taylor School (SVSD): Self-regulation Room – $1,500;
• RM of Mountain: Mafeking Outdoor rink construction – $2,000;
• Swan Valley Minor Hockey: Jersey Purchase – $2,000;
• Baseball Legacy Committee: baseball concession/storage facility – $7,500;
• Minitonas First Baptist Housing Corp.: window replacement – $1,000;
• Bowsman School (SVSD): adjustable basketball nets – $3,000;
• Multi-year grant to the Thunder Hill Ski Club
– $20,000/year for five years for a potential total of $100,000;
• Benito Legion Ladies Auxiliary: washroom accessibility upgrades – $1,000;
• ESRSS (SVSD): Physical Literacy through Gymnastics -$1,000; and
• Town of Swan River Rec Dept.: Rotary Trails Upgrade-Phase 1 – $5,000.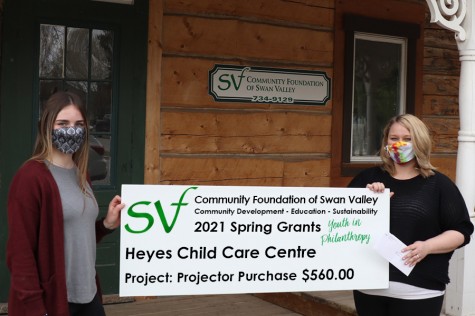 Two Youth in Philanthropy grants were also awarded by the SVRSS Student Committee:
• Heyes Child Care Centre: Projector purchase – $560; and
• SV Trails Association (SV Museum): Brush mower purchase -$1,940.