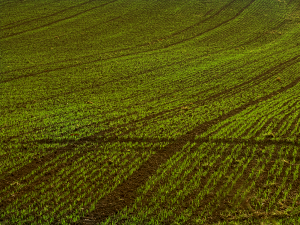 Northwest Region Crop Report Prepared by: Manitoba Agriculture
June 1, 2021 |
Northwest Region
The weather conditions in the Northwest region were extremely variable this past week. Temperatures reached highs of mid 20○C but then dropped to well below zero mid-week. On Wednesday lows of -5○C occurred through most of the region for approximately 8 to 10 hours. Reseeding activity due to frost events is not significant as most crops were just emerging. Strong winds over the weekend added to plant stress. There were some isolated rain events with the Swan River area receiving 15mm and Laurier 11mm; most of the rest of the region received trace amounts only. The precipitation received in the previous week has helped with soil moisture conditions however; some lighter soils are beginning to dry out, especially where overworked.
Seeding is generally complete through the region with producers finishing the last few acres. There has been some reseeding due to frost, wind and flea beetle damage although some fields have been affected more than others. Seeding is 90 to 95% complete in the region.
Wheat seeding is complete in the Northwest region. Barley and oats are 95% in the ground. Cereals were seeded into adequate moisture for germination and with timely rains are emerging evenly and in good condition. That being said, soil moisture on lighter soils is short for this time of year.
Peas are all in the ground and are emerging in the Roblin, Swan River and Dauphin areas. With timely rains, peas are in good condition.
There was good progress on seeding of canola this past week. To date, approximately 95% of forecasted acres are in the ground with the earliest seeded canola emerging. The canola has been the most affected by the recent frost and wind events although reseeding activity is limited. Flea beetle activity on canola has been increasing this past week and stem feeding is noticeable in some fields. There was good progress on soybeans last week and seeding is virtually complete. There are reports of fewer soybean acres going in this year in the region.
There has been good winter survival of most winter cereals, clovers and alfalfa. Some fall rye did not make it through the winter in good condition and those fields are being worked down and seeded to another crop.
Pheromone baited traps for diamondback moth monitoring are out in fields throughout the region. There are no significant numbers showing up as of yet. There are some reports of flea beetle damage on newly emerged canola in the region.
Forage growth remains slow with the dry and cool conditions. Alfalfa growth is faring better. Minimal damage occurred with last week's frost. Turnout of cattle onto pastures is slowly happening where there is sufficient forage to sustain the herd. Seeding of annual crops for greenfeed and silage is wrapping up. Additional moisture is needed for pasture and hay growth as well as for dugouts as water supplies are low.