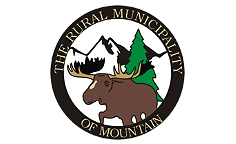 Minutes of the Regular Meeting of Council of the Rural Municipality of Mountain Held Wednesday, March 10th, 2021 via Zoom.
Members Present:
Reeve: Robert Hanson
Councillors: Wilmer Malcolm, Steve Nadolney, Nestor Rizok, Connie Forbes, Arnie Pedersen and Brad Wyatt.
CAO Paige Larocque was present and acted as secretary.
Finance Officer Kim Paterson was also present.
1. Call to Order
The meeting was called to order at 9:30 a.m. by Reeve Robert Hanson, quorum being present.
2. Adoption of Agenda
Resolution No: 2021/071
Moved By: Connie Forbes
Seconded By: Nestor Rizok
BE IT RESOLVED THAT the Agenda for the March 10th, 2021 Regular Meeting of Council be adopted as presented.
For: 7 Against:
CARRIED UNANIMOUSLY
3. Matters Arising from Minutes
Resolution No: 2021/072
Moved By: Arnie Pedersen
Seconded By: Nestor Rizok
BE IT RESOLVED THAT the Minutes of the regular meeting of Council held February 24th, 2021 be adopted as presented, all requirements having been complied with.
For: 7 Against:
CARRIED UNANIMOUSLY
4. By-Laws & Policies
4.1 By-Law Enforcement
4.1.1 Designated Officer By-Law
Resolution No: 2021/073
Moved By: Arnie Pedersen
Seconded By: Brad Wyatt
BE IT RESOLVED THAT By-Law No. 03/2021, being a By-Law to provide Designated Officers positions within the Rural Municipality of Mountain, be given first reading.
For: 7 Against:
CARRIED UNANIMOUSLY
4.1.2 Designated Officer By-Law
Resolution No: 2021/074
Moved By: Brad Wyatt
Seconded By: Stephen Nadolney
BE IT RESOLVED THAT By-Law No. 03/2021, being a By-Law to provide Designated Officer positions within the Rural Municipality of Mountain, be given second reading.
For: 7 Against:
CARRIED UNANIMOUSLY
4.1.3 Contract: The Commissionaires
Resolution No: 2021/075
Moved By: Arnie Pedersen
Seconded By: Nestor Rizok
WHEREAS the RM of Mountain has had no sucess in obtaining a local by-law enforcement officer;
THEREFORE BE IT RESOLVED THAT Council of the Rural Municipality of Mountain hereby approve the contract for By-Law Enforcement Services with Canadian Corp. of Commissionaires, Manitoba Division as per Schedule 'A' attached hereto;
AND THAT the CAO be authorized to sign on behalf of the Municipality.
For: 7 Against:
CARRIED UNANIMOUSLY
4.1.4 By-Law Enforcement Policy
Resolution No: 2021/076
Moved By: Wilmer Malcolm
Seconded By: Stephen Nadolney
BE IT RESOLVED THAT Council of the Rural Municipality of Mountain hereby adopt the By-Law Enforcement policy as per Schedule 'A' attached hereto.
For: 7 Against:
CARRIED UNANIMOUSLY
4.1.5 By-Law Enforcement By-Law
Resolution No: 2021/077
Moved By: Connie Forbes
Seconded By: Nestor Rizok
BE IT RESOLVED THAT By-Law No. 02/2021, being a By-Law to provide general By-Law Enforcement Measures within the Rural Municipality of Mountain, be given first reading.
For: 7 Against:
CARRIED UNANIMOUSLY
4.2 Property Maintenance/LUD Policy: Draft Policy
5. Financial
5.1 Ward Financial Statements: Review
5.2 Unaudited Financial Statements
Resolution No: 2021/078
Moved By: Brad Wyatt
Seconded By: Arnie Pedersen
BE IT RESOLVED THAT Council of the Rural Municipality of Mountain hereby accept and approve the Unaudited Financial Statement for the Year Ended December 31st, 2020 as presented.
For: 7 Against:
CARRIED UNANIMOUSLY
5.3 Transfer from Reserve: FleetNet Radios
Resolution No: 2021/079
Moved By: Connie Forbes
Seconded By: Wilmer Malcolm
BE IT RESOLVED THAT Council of the Rural Municipality of Mountain hereby approve the transfer from the Fire Fighting Equipment Reserve Fund in the amount of $37,090.48 for the purchase of Fire Department Radios.
For: 7 Against:
CARRIED UNANIMOUSLY
5.4 SV Municipal Airport Commission
Resolution No: 2021/080
Moved By: Arnie Pedersen
Seconded By: Brad Wyatt
BE IT RESOLVED THAT Council of the Rural Municipality of Mountain hereby approve the 2021 Municipal Airport Commission budget along with the RM of Mountain's municipal levy payment in the amount of $7,703.00.
For: 7 Against:
CARRIED UNANIMOUSLY
5.5 Parkland Regional Library
Resolution No: 2021/081
Moved By: Nestor Rizok
Seconded By: Stephen Nadolney
BE IT RESOLVED THAT Council of the Rural Municipality of Mountain hereby approve the 2021 Parkland Regional Library budget along with municipal contribution in the amount of $8,557.50.
For: 7 Against:
CARRIED UNANIMOUSLY
5.6 SV Planning District Budget
Resolution No: 2021/082
Moved By: Stephen Nadolney
Seconded By: Connie Forbes
BE IT RESOLVED THAT Council of the Rural Municipality of Mountain hereby approve the 2021 Swan Valley Planning District Budget along with municipal contribution in the amount of $1,755.92.
For: 7 Against:
CARRIED UNANIMOUSLY
5.7 Accounts Receivable
Resolution No: 2021/083
Moved By: Wilmer Malcolm
Seconded By: Arnie Pedersen
BE IT RESOLVED THAT the following unpaid utility accounts be added to the real property tax account of each account holder as per Schedule 'A' attached hereto.
For: 7 Against:
CARRIED UNANIMOUSLY
5.8 Private Water Line Repair – Mullin's: Tabled
5.9 Fire Protection Grant Program
Resolution No: 2021/084
Moved By: Connie Forbes
Seconded By: Stephen Nadolney
BE IT RESOLVED THAT Council of the Rural Municipality of Mountain hereby approve execution of the Fire Protection Grant Program agreement in the amount of $73,512.26 for Fire Protection gear and equipment;
AND THAT the Reeve and CAO be authorized to sign on behalf of the Municipality;
AND THAT Council authorize the district fire chief to make purchases in relation to such grant on behalf of the Municipality to a maximum of $73,512.26.
For: 7 Against:
CARRIED UNANIMOUSLY
5.10 Accounts Payable
Resolution No: 2021/085
Moved By: Stephen Nadolney
Seconded By: Nestor Rizok
BE IT RESOLVED THAT Cheque Nos.20210211 to 20210263 be approved for payment in the amount of $69,703.01, including Council Indemnities in the amount of $5,306.81 as per By-Law 03/16 and Direct Deposit Payroll in the amount of $4,271.93 as attached hereto as Schedule 'A';
AND FURTHER IT BE RESOLVED THAT the direct payment amount of $7,197.73 for Receiver General for February 2021 be hereby approved.
For: 7 Against:
CARRIED UNANIMOUSLY
6. 2021 Budget
6.1 CDI Funds: Tabled
6.2 Birch River Pool
Resolution No: 2021/086
Moved By: Connie Forbes
Seconded By: Nestor Rizok
BE IT RESOLVED THAT Council of the Rural Municipality of Mountain hereby approve the use of Federal ReStart Funding in the amount of $25,000.00 to be used to fund the Birch River Pool for 2021.
For: 7 Against:
CARRIED UNANIMOUSLY
6.3 LUD of Mafeking Service Plan
Resolution No: 2021/087
Moved By: Arnie Pedersen
Seconded By: Connie Forbes
WHEREAS the LUD of Mafeking has prepared and presented a service plan to Council;
THEREFORE BE IT RESOLVED THAT Council of the Rural Municipality of Mountain hereby adopt the service plan as submitted by the LUD of Mafeking, attached hereto as Schedule 'A'.
For: 7 Against:
CARRIED UNANIMOUSLY
6.4 LUD of Birch River Service Plan
Resolution No: 2021/088
Moved By: Nestor Rizok
Seconded By: Brad Wyatt
WHEREAS the LUD of Birch River has prepared and presented a service plan to Council;
THEREFORE BE IT RESOLVED THAT Council of the Rural Municipality of Mountain hereby adopt the service plan as submitted by the LUD of Birch River, attached hereto as Schedule 'A'.
For: 7 Against:
CARRIED UNANIMOUSLY
6.5 5 Year Capital Plan: Review
7. Personnel
7.1 Pine River Water Plant Employee
Resolution No: 2021/089
Moved By: Arnie Pedersen
Seconded By: Wilmer Malcolm
BE IT RESOLVED THAT Council of the Rural Municipality of Mountain hereby hire Amanda Hart as Pine River Waste Disposal Site Employee;
AND THAT wages and terms of employment be as stated in Schedule 'A' attached hereto.
For: 7 Against:
CARRIED UNANIMOUSLY
8. Ward Reports & Work Orders
Resolution No: 2021/090
Moved By: Arnie Pedersen
Seconded By: Stephen Nadolney
BE IT RESOLVED THAT Council of the Rural Municipality of Mountain hereby approve work orders #14/2021 to #15/2021 attached hereto.
For: 7 Against:
CARRIED UNANIMOUSLY
9. Delegations/Petitions
10. Meeting Attendance and Reports
10.1 2021 AMM Spring Convention
Resolution No: 2021/091
Moved By: Connie Forbes
Seconded By: Brad Wyatt
BE IT RESOLVED THAT Council and CAO of the Rural Municipality of Mountain be hereby authorized to attend the 2021 AMM Spring Convention webinar series to be held April 14-16th, 2021;
AND THAT expenses be allowed for same.
For: 7 Against:
CARRIED UNANIMOUSLY
11. General Business
11.1 Access to SW 32-34-23W
Resolution No: 2021/092
Moved By: Arnie Pedersen
Seconded By: Stephen Nadolney
BE IT RESOLVED THAT Council of the Rural Municipality of Mountain hereby approve the application to Crown Lands for the request for an easement on a portion of the NE 32-34-23W;
AND THAT the CAO be authorized to sign on behalf of the Municipality.
For: 7 Against:
CARRIED UNANIMOUSLY
11.2 Request – Birch River: Drainage Works Policy
11.3 Bridge Weight Restrictions
Resolution No: 2021/093
Moved By: Stephen Nadolney
Seconded By: Wilmer Malcolm
BE IT RESOLVED THAT Council of the Rural Municipality of Mountain hereby restrict the weight on the Harapiak Bridge (02-208-04B) and Boychuk Bridge (02-135-05B) to 20 tonnes.
For: 7 Against:
CARRIED UNANIMOUSLY
11.4 2021 Mowing Contract
Resolution No: 2021/094
Moved By: Arnie Pedersen
Seconded By: Connie Forbes
BE IT RESOLVED THAT Council of the Rural Municipality of Mountain hereby approve the 2021 Mowing contract to Wilmer Isaac Ent.
For: 7 Against:
CARRIED UNANIMOUSLY
11.5 Cowan/Pine River Waste Disposal Closure Plans
Resolution No: 2021/095
Moved By: Stephen Nadolney
Seconded By: Wilmer Malcolm
BE IT RESOLVED THAT Council of the Rural Municipality of Mountain hereby approve the Pine River and Cowan Waste Disposal Closure Plans as prepared by Environmental Consulting Solutions.
For: 7 Against:
CARRIED UNANIMOUSLY
11.6 Tipping Fees: Review Bulky Materials
11.7 Noxious Weed Inspector
Resolution No: 2021/096
Moved By: Arnie Pedersen
Seconded By: Wilmer Malcolm
BE IT RESOLVED THAT Council of the Rural Municipality of Mountain hereby enter into an agreement with Samantha Lynch for Noxious Weed Inspector as per Schedule 'A' attached hereto;
AND THAT the Reeve and CAO be authorized to sign on behalf of the Municipality.
For: 7 Against:
CARRIED UNANIMOUSLY
12. Communications
12.1 Donation Request: Relay for Life
Resolution No: 2021/097
Moved By: Arnie Pedersen
Seconded By: Connie Forbes
BE IT RESOLVED THAT the Rural Municipality of Mountain hereby authorize a donation towards the Relay for Life Group – Cindy Lou's Crew in the amount of $250.00 for garbage pickup in Birch River.
For: 7 Against:
CARRIED UNANIMOUSLY
12.2 LUD of Mafeking Minutes/Concerns: Address Cemetery Committee
12.3 Concerns – River Crossings: Review
13. Adjournment
Resolution No: 2021/098
Moved By: Stephen Nadolney
Seconded By: Nestor Rizok
BE IT RESOLVED THAT the Regular Meeting of Council of the Rural Municipality of Mountain be adjourned to meet again on March 24th, 2021.
Meeting adjourned at 12:00 p.m.
For: 7 Against:
CARRIED UNANIMOUSLY