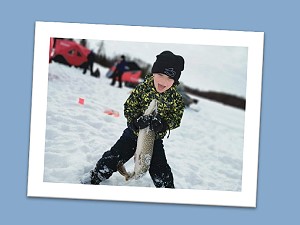 Submitted by:
Swan Valley Sport Fishing Enhancement |
February Family Fishing
Frenzy Photo Challenge
Submit a family fishing
photo during February
for the chance to win
some fun fishing freebies!

Show the angling community how young anglers in the Swan Valley are having a REEL good time fishing our local lakes this winter!
Reminder
During the month of February, Manitoba Parks offers free admittance to Provincial Parks.
The weekend of February 13th – 15th is designated as one of Manitoba's Family Fishing weekends. This means you do not require an angling license to fish but must follow the lake/area specific regulations and conservation limits.
The Challenge
Submit a photo of you or your family out fishing this winter.
Photo challenge is open to Swan Valley youth residents 17 and under only
(one photo/submission)
Photo must be from the 2020/21 winter season in the Parkland area.
Photos can be pictures holding a fish or the act of fishing.
(proper fish handling strongly encouraged)
Photos are to be emailed to svsfe.events@gmail.com
Submissions must include: name, town/village, email address, phone number.
You can submit one photo with multiple youth, but include the name and contact info for each individual (if different).
By entering the photo challenge, you are consenting to SVSFE sharing the photo on social media.
Winners will be announced early March and SVSFE directors will contact winners to arrange pickup/delivery.
Please follow local guidelines about physical distancing during COVID-19 outbreak.