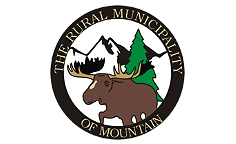 Minutes of the Regular Meeting of Council of the Rural Municipality of Mountain held Thursday, November 12th, 2020 via Zoom.
Members Present:
Reeve: Robert Hanson

Councillors: Wilmer Malcolm, Steve Nadolney, Nestor Rizok, Connie Forbes, Arnie Pedersen and Brad Wyatt.
CAO Paige Larocque was present and acted as secretary.
Finance Officer Kim Paterson was also present.
1. Call to Order
The meeting was called to order at 10:00 a.m. by Reeve Robert Hanson, quorum being present.
2. Adoption of Agenda
Resolution No: 2020/424
Moved By: Stephen Nadolney
Seconded By: Nestor Rizok
BE IT RESOLVED THAT the Agenda for the November 12th, 2020 Regular Meeting of Council be adopted as presented.
For: 7 Against:
CARRIED UNANIMOUSLY
3. Matters Arising from Minutes
Resolution No: 2020/425
Moved By: Wilmer Malcolm
Seconded By: Arnie Pedersen
BE IT RESOLVED THAT the Minutes of the Regular Meeting of Council held October 28th, 2020 be adopted as presented, all requirements having been complied with.
For: 7 Against:
CARRIED UNANIMOUSLY
4. By-Laws & Policies
4.1 Fire Department Policy Manual: Review
4.2 Road Allowance By-Law
Resolution No: 2020/426
Moved By: Connie Forbes
Seconded By: Arnie Pedersen
BE IT RESOLVED THAT By-Law No. 15/2020, being a By-Law to govern the use of Municipal Road Allowances within the Rural Municipality of Mountain, be given first reading.
For: 7 Against:
CARRIED UNANIMOUSLY
4.3 Application for Approach Policy
Resolution No: 2020/427
Moved By: Connie Forbes
Seconded By: Arnie Pedersen
BE IT RESOLVED THAT Council of the Rural Municipality of Mountain hereby amend the approaches off municipal property policy as per Schedule 'A' attached hereto.
For: 7 Against:
CARRIED UNANIMOUSLY
4.4 Council Code of Conduct: Online Training
4.5 Submission of Council Indemnity: Explore Direct Deposit
4.6 Public Council Meetings/Community Notices: Review
5. Financial
5.1 Financial Statements
Resolution No: 2020/428
Moved By: Wilmer Malcolm
Seconded By: Nestor Rizok
BE IT RESOLVED THAT Council of the Rural Municipality of Mountain hereby accept and approve the Unaudited Financial Statement for October 31st, 2020 as presented.
For: 7 Against:
CARRIED UNANIMOUSLY
5.2 Ward Budget Allocations: Review
5.3 2020 Discount: Safe Restart Funding
Resolution No: 2020/429
Moved By: Connie Forbes
Seconded By: Arnie Pedersen
WHEREAS the 2020 tax discount schedule was extended this year, which increased the expense to $43,527.18;
THEREFORE BE IT RESOLVED THAT Council of the Rural Municipality of Mountain hereby transfer the amount over the anticipated budget [$16,527.18] from the Federal Safe Restart Funds in the General Operating Reserve Fund to pay for such overage.
For: 7 Against:
CARRIED UNANIMOUSLY
5.4 Security Systems: Review
5.5 2017 Proceeds from Tax Sale
Resolution No: 2020/430
Moved By: Stephen Nadolney
Seconded By: Nestor Rizok
WHEREAS the 2017 Tax Sale saw proceeds in the amount of $813.69, which has been held in trust for the required three year period with no request for payment of funds;
THEREFORE BE IT RESOLVED THAT Council of the Rural Municipality of Mountain hereby transfer funds from trust to the general operating funds of the Municipality.
For: 7 Against:
CARRIED UNANIMOUSLY
5.6 Reissue Stale Dated Payroll Cheque
Resolution No: 2020/431
Moved By: Connie Forbes
Seconded By: Arnie Pedersen
BE IT RESOLVED THAT Council of the Rural Municipality of Mountain hereby approve of the reprinting of payroll cheque number 20200023 in the amount of $1,318.80.
For: 7 Against:
CARRIED UNANIMOUSLY
5.7 2021 Employee Wages: Review
5.8 2021 Muniware Software Support and License Agreement
Resolution No: 2020/432
Moved By: Nestor Rizok
Seconded By: Brad Wyatt
BE IT RESOLVED THAT Council of the Rural Municipality of Mountain hereby enter into an agreement with MuniWare for Support Services for 2021 and Software Licence agreement;
AND THAT the Chief Administrative Officer be authorized to sign on behalf of the Municipality.
For: 7 Against:
CARRIED UNANIMOUSLY
5.9 Accounts Payable
Resolution No: 2020/433
Moved By: Nestor Rizok
Seconded By: Wilmer Malcolm
BE IT RESOLVED THAT Cheque Nos.20201253 to 20201314 be approved for payment in the amount of $608,863.42, including Council Indemnities in the amount of $5,202.66 as per By-Law 03/16 and Direct Deposit Payroll in the amount of $5,367.91 as attached hereto as Schedule 'A';
AND FURTHER IT BE RESOLVED THAT the direct payment amount of $7,036.47 for Receiver General for October 2020 be hereby approved.
For: 7 Against:
CARRIED UNANIMOUSLY
6. Ward Reports & Work Orders
Resolution No: 2020/434
Moved By: Brad Wyatt
Seconded By: Stephen Nadolney
BE IT RESOLVED THAT Council of the Rural Municipality of Mountain hereby approve work orders #154/2020 to #158/2020 attached hereto.
For: 7 Against:
CARRIED UNANIMOUSLY
7. Delegations/Petitions
8. Meeting Attendance and Reports
8.1 AMM Convention: Ministerial Forum
9. General Business
9.1 Committee Appointments
Resolution No: 2020/435
Moved By: Stephen Nadolney
Seconded By: Nestor Rizok
BE IT RESOLVED THAT Council of the Rural Municipality of Mountain hereby make the following committee appointments for the 2021 year as per Schedule 'A' attached hereto.
For: 7 Against:
CARRIED UNANIMOUSLY
9.2 Humeniuk LVAC Order: Review
9.3 Ron Last Land Sale
Resolution No: 2020/436
Moved By: Stephen Nadolney
Seconded By: Nestor Rizok
WHEREAS an agreement for the sale of SE 21-34-23W was entered into, whereby the sale would be completed once the Municipality obtained ownership;
AND WHEREAS the Rural Municipality of Mountain has now obtained ownership of Parcels A, B, D and F of Plan 65357;
THEREFORE BE IT RESOLVED THAT Council of the Rural Municipality of Mountain hereby approve the transfer of Parcels A, B, D, and F, Plan 65357 to R. Last and R. Doherty;
AND THAT the Reeve and CAO be authorized to sign on behalf of the Municipality.
For: 7 Against:
CARRIED UNANIMOUSLY
9.4 Pine River Waste Site Closure Plan: Further Information Needed
9.5 LUD of Mafeking By-Election
Resolution No: 2020/437
Moved By: Brad Wyatt
Seconded By: Connie Forbes
WHEREAS a call for nomiations to fill the vacant position on the LUD of Mafeking was held, and there were no responses;
THEREFORE BE IT RESOLVED THAT Council of the Rural Municipality of Mountain hereby appoint Trina Greeley to the LUD of Mafeking committee.
For: 7 Against:
CARRIED UNANIMOUSLY
10. Communications
10.1 National Wall of Remembrance
Resolution No: 2020/438
Moved By: Wilmer Malcolm
Seconded By: Nestor Rizok
BE IT RESOLVED THAT the Rural Municipality of Mountain hereby purchase advertising in the Rememberance Magazine to support the National Wall of Rememberance in the amount of $250.00.
For: 7 Against:
CARRIED UNANIMOUSLY
10.2 Municipal Enforcement Support Program: Review
10.3 LUD of Birch River Minutes: Review
10.4 LUD of Pine River Minutes: Review
11. Adjournment
Resolution No: 2020/439
Moved By: Wilmer Malcolm
Seconded By: Nestor Rizok
BE IT RESOLVED THAT the Regular Meeting of Council of the Rural Municipality of Mountain be adjourned to meet again on November 25th, 2020
Meeting adjourned at 12:11 p.m.
For: 7 Against:
CARRIED UNANIMOUSLY