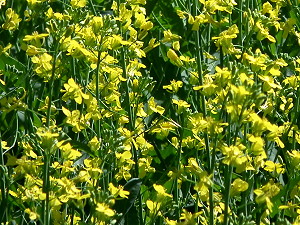 Northwest Region Crop Report Prepared by: Manitoba Agriculture
August 4, 2020 |
Northwest Region
High temperatures throughout the week continued to advance the crops, with some areas in the region reaching 31°C. A strong thunderstorm through parts of the region at week's end brought some precipitation with varying amounts. Areas receiving highest rainfall amounts this week included Swan River, Ethelbert, Fork River 27 to 28mm while the rest of the region received lower amounts. Soil moisture is adequate for the most part, although there are some areas throughout the region that are very dry and seem to be missing the rains. Recent rain in The Pas brought another 33mm of rain and added to the already wet conditions.
Spring wheat and cereals are mostly in the soft dough stage. Winter wheat and fall rye are in the hard dough stage and continuing to maturity. The most advanced canola is nearing completion of flowering and podded; while the remainder of the crop continues flowering and in some cases catch up. Staginess in some canola fields remains an issue. Soybeans are continuing to flower and develop pods and in the R3 to R4 stage with the southern part of the region more towards the R4 stage. Field peas are podded and continuing to maturity and mostly in the R5-R6 stage. Flax is also nearing completion of flowering and continues boll development. Fungicide applications virtually complete across the region.
Bertha Armyworm monitoring has wrapped up with several traps in the Swan Valley reaching "uncertain" levels. These include Swan Valley (461), Durban (477) and Bowsman NW (476). Grasshoppers seem to be abundant in the Parkland region and growers and agronomists should continue to monitor crops for economic damage.
Good progress was made this week in putting up hay with the majority of first cut now completed. Yields are variable but below normal for the most part. Early seeded greenfeed crops have been cut and cereal silage harvest has begun. Pasture growth has slowed down and would benefit from additional rain. Corn silage fields could use some moisture as well. Grasshoppers continue to be a significant problem. Dugout levels remain adequate.