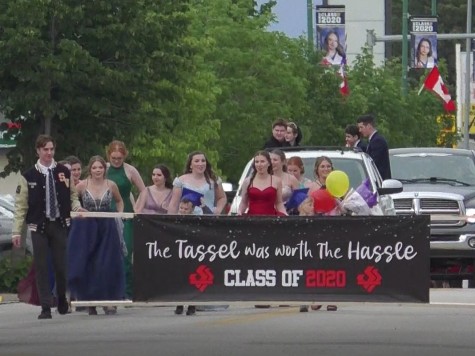 Pictures Courtesy of Kevin Penner
Congratulations to the Graduating Class of 2020
Swan Valley Regional Secondary School June 19, 2020
It was a graduation like none other for the Swan Valley Regional Secondary School Class of 2020. A lot of dedication and creativity went into designing a graduation ceremony that would provide a safe and meaningful event for the graduates in the midst of the COVID-19 pandemic.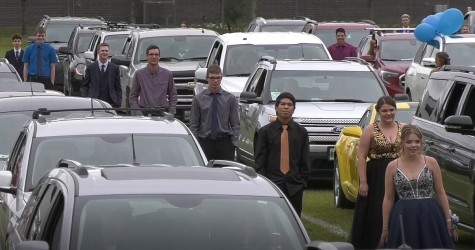 A drive-in ceremony was held at the SVRSS on June 19, 2020 which allowed graduates to attend with their families while following the public health orders regarding social distancing and gathering sizes. There were literally a lot of moving parts as rows of vehicles rotated into position for families to be right in front of the stage as their grad received their diploma.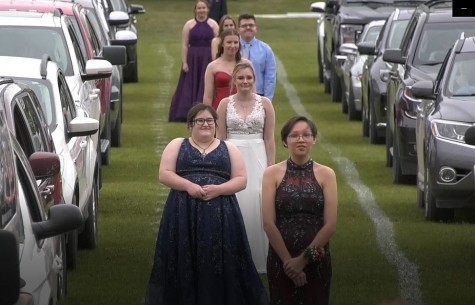 The ceremony was also streamed live to allow extended family and friends to share the special day.
Other special touches included lawn signs, banners with pictures of each graduate lining the light posts on main street and a graduation parade.
Swan Valley Regional Secondary School Graduating Class of 2020
Ames, Johnathon William Cole
Badowski, Anika Hadley *
Bartram-McFadyen, Chase James
Bateman, Adria Paige **
Becker, Teresa Marie
Bednarski, Sydney Lee *
Bercier, Sasha Anna Bella
Bezo, Kylie Beverly Ann
Black, Josephine Emma **
Brass, Lesleigh Rose
Burick, Landen Carter *
Burwash, Maicy Jayne
Bushenlonga, Nolan
Byblow, Breanna Lorraine Marie
Chmelowski, Olivia Christine **
Church, Taylor Rae
Clelland, Rhiana Marie **
Cook, Syles Thunderstorm
Corbett, Jeremy Ashley James
Cross, Holden Loughridge
Currie, Kaleigh Isabelle
Diedenhoven, Anna-Lena
Enekwinnare, Jessica Anne Camden
Evans, Joshua Jacob
Evans, Jude Astrid
Facundo, Ivan Levi Millare
Fedorchuk, Sydney Emelea Ann *
Ferland, Mackenzie Bella May *
Flatfoot, Byron Cory Nick
Fleury, Decorbea Ryanne
Formo, Emma Rydyn
Gauthier, Justin James Gordon Adeoff
Genaille, Carlos Dreyden Peter
Genaille, Chloe Jewels
Genaille, Preston Clayton Anton
Gott, Lillian Miami
Grandfield, Carnell Clarke **
Gray, Jordan Quinn
Hagglund, Kirstyn Parker Lyn
Haluschak, Clay Belton
Hanson Rebien, Brett Ryan
Hart, Kylie Rose Marie **
Hillmer, Savannah Dawn
Homeniuk, Austin Blake **
Houle, Flora Marie
Jones, Cailey Brooke **
Keller, Weston Elliot
Kematch-Cook, Christian Jordan
Klatt, Lauren Elizabeth *
Kovachik, Jessica Marie **
Kublick-Dvorak, Christian Arthur Stanley *
Kurtz, Jackson Thomas **
Lacasse, Pascal Jean
LeBlanc, Pierce Antoine
Logan, Benjamin John **
Makasoff, Sierra Paige **
Martens, Mike
McKay, Jenna Lee
Muller, Bryce Richard **
Mullin, Carson Reid
Munro, Hannalee Florence
Patience, Logan Preston *
Pierrepont, Brenden Calvin
Pierrepont, Corbin Dean
Potkonjak, Mya Bosa Rose
Pruden, Zackeus Dolphus
Racette, Isabella Marie
Redlick, Saige Margaret Lorraine
Ribalkin, Rhett Jackson Robert *
Riehl, Amelia Elizabeth **
Rivard, Austin James Melvin
Sandy, Lavern
Schure, Brenna Jordyn
Sembaluk-Hart, Erica Dawn **
Simard, Scott William
Simpson, Kylie Sylvia
Sorrell, Cory Allan
Spencer, Brynlee Emma
Staniland, Morgan David
Staples, Ireland Jaydine Pierce
Staples, McKenna Eilish Pierce
Staples, Tanner Lane Pierce
Stephen, Hannah Renae *
Stewart, Caitlin Elizabeth **
Stienwandt, Damon Mark Charles *
Stinson, Seanna Ruby
Swanson, Christina Ardyth Faye
Switzer, Tyrell
Terry, Morgan Alexander
Thiessen, Hannah Mackenzie **
Turton, Cole Richard
Varey, Cade
Watts, Brooke Kate-Lynn *
Weir, Ethan Jeffrey
Werbicki, Tatum Coral
Wiebe, Zoe Lorraine
Windsor, William David
Young, Merrick Christien Charles Andrew
* Honours
** With Distinction