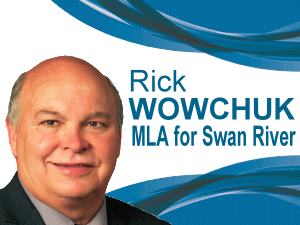 Manitoba Pc Caucus Media Release | Rick Wowchuk, MLA for Swan River is welcoming an announcement that the Government of Manitoba is providing funding for projects from local heritage organizations through the Manitoba Heritage Resource Conservation Grants program.
"Swan River's cultural roots run deep," said Wowchuk. "Our PC government recognizes the need to preserve our heritage so we can continue to appreciate it for generations to come."
A total of $750,000 has been awarded through this round of Manitoba Heritage Resource Conservation Grants province-wide This includes a total of $18,785 for the following projects in the Swan River constituency:
Angusville Municipal Hall, Angusville
– replace basement stairs and repair windows ($1,400)
Armstrong Farm Site, Rossburn
– repair loft floor and repair rafter bracing ($4,300)
Lakedale Holy Ghost Ukrainian Catholic Church, Angusville
– repair floor structure and restore flooring ($9,185)
St. Margaret's Anglican Church, Mafeking
– paint exterior ($3,500)
Ukrainian Greek Orthodox Church of the Ascension, Angusville
– repair roof (dome) ($400)
The Manitoba Heritage Resource Grants support projects that demonstrate a commitment towards the conservation and long-term sustainability of heritage resources. Categories for grant application include capital projects, research, conservation planning, education or training, and endowments.