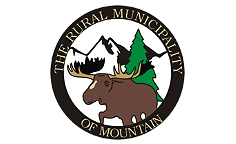 Minutes of the Regular Meeting of Council of the Rural Municipality of Mountain held Wednesday, April 8th, 2020 via Video Conference.
Members Present:
Reeve: Robert Hanson
Councillors: Wilmer Malcolm, Stephen Nadolney, Nestor Rizok, Connie Forbes, Arnie Pedersen and Brad Wyatt.
CAO Paige Larocque was present and acted as secretary.
Finance Officer Kim Paterson was also present.
1. Call to Order
The meeting was called to order at 10:08 a.m. by Reeve Robert Hanson, quorum being present.
2. Adoption of Agenda
Resolution No: 2020/135
Moved By: Wilmer Malcolm
Seconded By: Stephen Nadolney
BE IT RESOLVED THAT the Agenda for the April 8th, 2020 Regular Meeting of Council be adopted as presented.
For: 7 Against:
CARRIED UNANIMOUSLY
3. Matters Arising from Minutes
Resolution No: 2020/136
Moved By: Connie Forbes
Seconded By: Brad Wyatt
BE IT RESOLVED THAT the Minutes of the Regular Meeting of Council held March 25th, 2020 be adopted as presented, all requirements having been complied with.
For: 7 Against:
CARRIED UNANIMOUSLY
4. By-Laws & Policies
4.1 Financial Plan By-Law: Review Provincial Deadlines
4.2 Property Maintenance By-Law: Review
4.3 Repeal Business Licence By-Law
Resolution No: 2020/137
BE IT RESOLVED THAT By-Law No. 08/2020, being a By-Law to repeal the business licence by-law of the Rural Municipality of Mountain, be given third and final reading.
Connie Forbes – yes
Robert Hanson – yes
Wilmer Malcolm – yes
Stephen Nadolney – yes
Arnie Pedersen – yes
Nestor Rizok – yes
Brad Wyatt – yes
4.4 Burning Permit By-Law: Permit Documentation
5. Financial
5.1 Financial Statements: Review
5.2 Beaver Report: Review
5.3 Membership: Manitoba Association for Municipal Emergency Coordinators
Resolution No: 2020/138
Moved By: Stephen Nadolney
Seconded By: Arnie Pedersen
BE IT RESOLVED THAT Council of the Rural Municipality of Mountain hereby approve the 2020 membership to the Manitoba Association for Municipal Emergency Coordinators.
For: 7 Against:
CARRIED UNANIMOUSLY
5.4 Fire Department Purchases
Resolution No: 2020/139
Moved By: Wilmer Malcolm
Seconded By: Connie Forbes
BE IT RESOLVED THAT Council of the Rural Municipality of Mountain authorize the expenditure in the amount of $3,000.00 plus installation for the purchase of a phone monitoring system for the Mountain North and Mountain South Fire Halls.
For: 7 Against:
CARRIED UNANIMOUSLY
5.5 LUD of Birch River Utility Rates: Review PUB Letter
5.6 Accounts Payable
Resolution No: 2020/140
Moved By: Arnie Pedersen
Seconded By: Nestor Rizok
BE IT RESOLVED THAT Cheque Nos.20200336 to 20200387 be approved for payment in the amount of $85,650.93, including Council Indemnities in the amount of $4,936.48 as per By-Law 03/16 and Direct Deposit Payroll in the amount of $5,190.80 as attached hereto as Schedule 'A';
AND FURTHER IT BE RESOLVED THAT the direct payment amount of $7,182.18 for Receiver General for March 2020 be hereby approved.
For: 7 Against:
CARRIED UNANIMOUSLY
6. Ward Reports & Work Orders
Resolution No: 2020/141
Moved By: Wilmer Malcolm
Seconded By: Arnie Pedersen
BE IT RESOLVED THAT Council of the Rural Municipality of Mountain hereby approve work orders #20/2020 to #24/2020 attached hereto.
For: 7 Against:
CARRIED UNANIMOUSLY
7. Delegations/Petitions
8. Meeting Attendance and Reports
9. General Business
9.1 2020 Land Sale
Resolution No: 2020/142
Moved By: Nestor Rizok
Seconded By: Wilmer Malcolm
BE IT RESOLVED THAT Council of the Rural Municipality of Mountain hereby accept the offers to purchase as follows:
Roll Number/Legal Description Purchase Price Purchaser
91800.000 $51,352.99 Edwin Rumak
92700.000 $50,647.01 Edwin Rumak
154400.000 $54,010.00 Moose Mountain Buffalo Ranch
154500.000 $22,650.00 Moose Mountain Buffalo Ranch
215600.000 $55,010.00 Moose Mountain Buffalo Ranch
215700.000 $55,010.00 Moose Mountain Buffalo Ranch
215800.000 $55,010.00 Moose Mountain Buffalo Ranch
267900.000 $10,050.00 Moose Mountain Buffalo Ranch
272600.000 $20,050.00 Moose Mountain Buffalo Ranch
278400.000 $22,401.00 Dale/Andrew Hogan
279800.000 No Bids
AND THAT the transfer be subject to the following conditions:
The Purchase will be responsible for all associated land transfer or legal fees;
Land Transfer must be completed within 90 days.
AND THAT the Reeve and CAO be authorized to sign on behalf of the Municipality.
For: 7 Against:
CARRIED UNANIMOUSLY
9.2 Conditional Use Application
Resolution No: 2020/143
Moved By: Stephen Nadolney
Seconded By: Wilmer Malcolm
WHEREAS Council of the Rural Municipality of Mountain held a Public Hearing on April 8th, 2020 to hear the Conditional Use Application #CU2020-01 [Pettyjohn] for the property legally described as SE 23-32-23W, Pine River, MB;
AND WHEREAS there were no objections, or all objections were heard and considered;
THEREFORE BE IT RESOLVED THAT the Conditional Use Order #CU2020-01 be approved as per Schedule 'A' attached hereto.
For: 7 Against:
CARRIED UNANIMOUSLY
9.3 Parcel C, Plan 65357: Review Costs
9.4 COVID-19
9.4.1 Municipal Closures
Resolution No: 2020/144
Moved By: Wilmer Malcolm
Seconded By: Brad Wyatt
BE IT RESOLVED THAT due to the COVID-19 pandemic, Council of the Rural Municipality of Mountain hereby close the following non-essential municipal buildings and properties until further notice:
Pine River Playground
Northern Neighbours Senior Centre
Bellsite Community Centre
For: 7 Against:
CARRIED UNANIMOUSLY
9.4.2 Deadline for Water Bills
Resolution No: 2020/145
Moved By: Connie Forbes
Seconded By: Brad Wyatt
BE IT RESOLVED THAT Council of the Rural Municipality of Mountain hereby set the Birch River and Mafeking utility billing penalty rates to begin June 1, 2020.
For: 7 Against:
CARRIED UNANIMOUSLY
9.4.3 2020 Tax Sale: Continue As Scheduled
9.5 Emergency Coordinator
Resolution No: 2020/146
Moved By: Arnie Pedersen
Seconded By: Brad Wyatt
BE IT RESOLVED THAT Council of the Rural Municipality of Mountain hereby appoint Stephen Nadolney as Municipal Emergency Coordinator and Connie Forbes as Alternate Municipal Emergency Coordinator as per the agreements attached hereto in Schedules 'A' and 'B'.
For: 7 Against:
CARRIED UNANIMOUSLY
10. Communications
10.1 Letter From Minister Squires: Flood Protection Program & DFA
10.2 WSFN Survey Report: Birch River
10.3 FleetNet Upgrades: Set Up Rates
10.4 March Animal Control Report: Review
11. Adjournment
Resolution No: 2020/147
Moved By: Nestor Rizok
Seconded By: Arnie Pedersen
BE IT RESOLVED THAT the Regular Meeting of Council of the Rural Municipality of Mountain be adjourned to meet again on April 22nd, 2020.
Meeting adjourned at 11:37 a.m.
For: 7 Against:
CARRIED UNANIMOUSLY