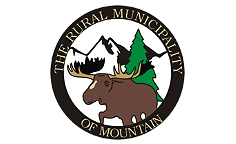 Minutes of the Regular Meeting of Council of the Rural Municipality of Mountain held Wednesday, March 25th, 2020.
Members Present via telecommunciation measures:
Reeve: Robert Hanson
Councillors: Wilmer Malcolm, Steve Nadolney, Nestor Rizok, Connie Forbes, Arnie Pedersen and Brad Wyatt.
CAO Paige Larocque was present and acted as secretary.
1. Call to Order
The meeting was called to order at 10:00 a.m. by Reeve Robert Hanson, quorum being present.
2. Adoption of Agenda
Resolution No: 2020/117
Moved By: Connie Forbes
Seconded By: Wilmer Malcolm
BE IT RESOLVED THAT the Agenda for the March 25th, 2020 Regular Meeting of Council be adopted as presented.
For: 7 Against:
CARRIED UNANIMOUSLY
3. Matters Arising from Minutes
Resolution No: 2020/118
Moved By: Wilmer Malcolm
Seconded By: Stephen Nadolney
BE IT RESOLVED THAT the Minutes of the Regular Meeting of Council held March 11th, 2020 be adopted as presented, all requirements having been complied with.
For: 7 Against:
CARRIED UNANIMOUSLY
4. By-Laws & Policies
4.1 Tax Certificate By-Law
Resolution No: 2020/119
Moved By: Stephen Nadolney
Seconded By: Arnie Pedersen
BE IT RESOLVED THAT By-Law No. 05/2020, being a By-Law to prescribe a fee for tax certificates, be given second reading.
For: 7 Against:
CARRIED UNANIMOUSLY
4.2 Tax Certificate By-Law
Resolution No: 2020/120
Moved By: Arnie Pedersen
Seconded By: Nestor Rizok
BE IT RESOLVED THAT By-Law No. 05/2020, being a By-Law to prescribe a fee for tax certificates, be given third and final reading.
Connie Forbes – yes
Robert Hanson – yes
Wilmer Malcolm – yes
Arnie Pedersen – yes
Nestor Rizok – yes
Brad Wyatt – yes
CARRIED UNANIMOUSLY
4.3 Property Standards By-Law
Resolution No: 2020/121
Moved By: Nestor Rizok
Seconded By: Brad Wyatt
BE IT RESOLVED THAT By-Law No. 06/2020, being a By-Law to provide for the maintenance of property within the Rural Municipality of Mountain, be given first reading.
For: 7 Against:
CARRIED UNANIMOUSLY
4.4 Repeal Business Licence By-Law
Resolution No: 2020/122
Moved By: Brad Wyatt
Seconded By: Connie Forbes
BE IT RESOLVED THAT By-Law No. 08/2020, being a By-Law to repeal the business licence by-law of the Rural Municipality of Mountain, be given first reading.
For: 7 Against:
CARRIED UNANIMOUSLY
4.5 Repeal Business Licence By-Law
Resolution No: 2020/123
Moved By: Connie Forbes
Seconded By: Wilmer Malcolm
BE IT RESOLVED THAT By-Law No. 08/2020, being a By-Law to repeal the business licence By-Law of the Rural Municipality of Mountain, be given second reading.
For: 7 Against:
CARRIED UNANIMOUSLY
4.6 Continuing Eduction Policy
Resolution No: 2020/124
Moved By: Stephen Nadolney
Seconded By: Connie Forbes
BE IT RESOLVED THAT Council of the Rural Municipality of Mountain hereby adopt the Continuing Education policy as per Schedule 'A' attached hereto.
For: 6 Against: Abstained: 1
CARRIED
5. 2020 Budget Discussions
5.1 Road Maintenance Special Service Levy
Resolution No: 2020/125
Moved By: Stephen Nadolney
Seconded By: Nestor Rizok
BE IT RESOLVED THAT Council of the Rural Municipality of Mountain hereby prepare a special service levy for Road Maintenance Services for the Mountain North and Mountain South rural area properties.
For: 6 Against: Abstained: 1
CARRIED
6. Financial
6.1 Financial Statements: Review
6.2 Zoom Meetings Purchase
Resolution No: 2020/126
Moved By: Arnie Pedersen
Seconded By: Nestor Rizok
BE IT RESOLVED THAT Council of the Rural Municipality of Mountain hereby approve the purchase of an annual subscription to Zoom Pro.
For: 7 Against:
CARRIED UNANIMOUSLY
6.3 2020 Flood Preparedness Program
Resolution No: 2020/127
Moved By: Stephen Nadolney
Seconded By: Arnie Pedersen
WHEREAS the Rural Municipality of Mountain has received notification that their application for the 2020 Flood Preparedness Program has been approved in the amount of $27,000;
THEREFORE BE IT RESOLVED THAT Council of the Rural Municipality of Mountain hereby authorize the expenditure of a culvert steamer unit to a maximum of $27,000.
For: 7 Against:
CARRIED UNANIMOUSLY
6.4 2020/21 Provincial Funding: Review
6.5 2020 Recreation Commission Payments
Resolution No: 2020/128
Moved By: Brad Wyatt
Seconded By: Connie Forbes
BE IT RESOLVED THAT Council of the Rural Municipality of Mountain hereby approve and authorize the payment to the Mafeking Recreation Commission in the amount of $1,500.00 in connection with their request for funds.
For: 7 Against:
CARRIED UNANIMOUSLY
6.6 Accounts Payable
Resolution No: 2020/129
Moved By: Wilmer Malcolm
Seconded By: Stephen Nadolney
BE IT RESOLVED THAT Cheque Nos.20200293 to 20200335 be approved for payment in the amount of $45,990.66, and Direct Deposit Payroll in the amount of $5,538.79 as attached hereto as Schedule 'A';
For: 7 Against:
CARRIED UNANIMOUSLY
7. Ward Reports & Work Orders
Resolution No: 2020/130
Moved By: Wilmer Malcolm
Seconded By: Connie Forbes
BE IT RESOLVED THAT Council of the Rural Municipality of Mountain hereby approve work orders #16/2020 to #19/2020 attached hereto.
For: 7 Against:
CARRIED UNANIMOUSLY
8. Delegations/Petitions
9. Meeting Attendance and Reports
10. General Business
10.1 RM of Mountain Land Sales: Postponed to April 8 meeting
10.2 COVID-19: Review
10.3 Emergency Coordinator/Alternate Appointment: Review Agreement
10.4 Noxious Weed Inspector: Review Requirements
11. Communications
11.1 Reply From Minister of Agriculture: Review
11.2 Mafeking Heritage Site Project: 1/2 Funding Secured
11.3 Gilbert Plains High School Rodeo Request
Resolution No: 2020/131
Moved By: Stephen Nadolney
Seconded By: Arnie Pedersen
BE IT RESOLVED THAT the Rural Municipality of Mountain hereby authorize a donation towards the Gilbert Plains High School Rodeo group/committee in the amount of $1,000.00.
For: Against: 7
DEFEATED
11.4 KidSport Funding Donation
Resolution No: 2020/132
Moved By: Brad Wyatt
Seconded By: Nestor Rizok
BE IT RESOLVED THAT the Rural Municipality of Mountain hereby authorize a donation towards the Kidsport Fund in the amount of $50.00.
For: 7 Against:
CARRIED UNANIMOUSLY
12. Adjournment
Resolution No: 2020/133
BE IT RESOLVED THAT the Regular Meeting of Council of the Rural Municipality of Mountain be adjourned to meet again on April 8th, 2020.
For: 7 Against:
CARRIED UNANIMOUSLY