Submitted by Debbie Soloway |
The Pine River Community Centre Fall Supper was held on Sunday November 10th, 2019 5:00pm -7:00pm. The supper was advanced tickets only and they completely sold out accommodating 160 quests. The tables were decorated in beautiful fall colors and the entrance table displayed a cross and a wreath commemorating Remembrance Day. Prior to the supper there was a short Remembrance Day Program with Donna Bartko sharing in prayer and poem, and Emma Livingston read the poem "In Flanders Fields".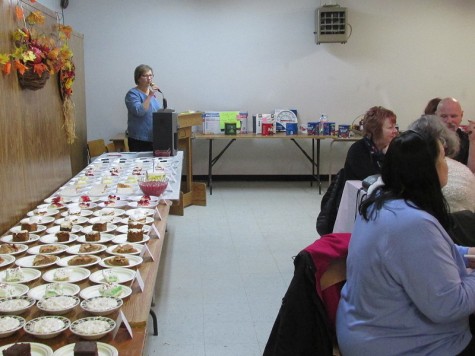 Everyone always wants to be first in line so this year the community centre members chose to select matching numbered cards that had been placed on each table to determine the order in which their guests would be served. This method gave everyone a chance to sit and visit instead of standing in a long line.
The delicious meal consisted of ham, meatballs in gravy, cabbage rolls, perogies, beet leaf buns, mixed vegetables and three salads (Cesar, garden and pasta). This was followed by tables full of scrumptious desserts, strawberry and cherry cheese cakes, creamy fruit dessert; lemon, pumpkin, pistachio, coconut and chocolate squares and slices, apple pie, chocolate trifle, and angel food cake with strawberry or raspberry sauce; along with several beverages.
They also had 16 door prizes and tables full of silent auction prizes, congratulations to the following silent auction winners: Cliff Kostiuk, Doris Dunfield, Helen Fyk, Tara Kolisnyk, Bill Ormonde, Andrew & Teresa Barthelette, Monika Buhler, Merv Goossen, Lawrence Baschak, Heather Soutis, Steve Kushnerek, Garry Urbanowski, Deb Malcolm, Bert Palichuk, Leanne Marceniuk, Albert Bandura, Sheila Medwid, Darlene Nakonechny, Dianne Medwid, Rosann Wowchuk, Emma Livingston, Wyatt Shemeliuk, Debbie Soloway and Terry Soutis.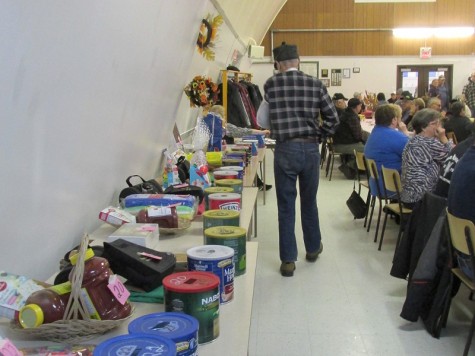 It was great to see so many people that made an effort to travel so far to be in attendance, there were guests from Winnipeg to Regina and throughout the Parkland Region. Huge thanks to all the people that supported our fundraiser by purchasing tickets, and attending our supper, donating prizes and food, and volunteering their time to help make this supper possible, you all hold a special place in our hearts and community. We hope to see you again for our spring supper.