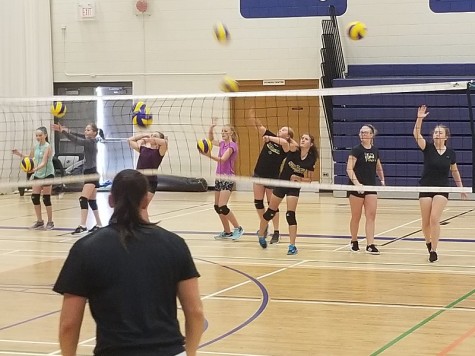 Submitted by: Kandace Hart | The Spitfires Girls Volleyball team hosted an open skills camp August 23, 2019 at SVRSS with clinician Aimee Uchelenko.
Aimee currently coaches the 18U Women's club team in Estavan and is involved with the Atomic Program. She was a member of the Saskatchewan provincial team, had a 5 year career at NCAA Division 1 Montana State University and played on the Canadian Junior National Team. She also coordinates the Prospects Camp in Saskatoon that allows Canadian players to showcase their skills for recruiters and coaches from all over North America.
This was a great opportunity for players in the valley to receive training from a highly qualified instructor. The morning session was for players entering grades 9-12. There were 30 participants for the morning session that came from as far away as Russell. Aimee was joined by Spitfires coach Kristalyn Friesen for part of the morning. They focused on fine tuning techniques, preparing for tryouts and had a lot of fun playing against one another.

The afternoon brought in 16 players from grade 6 to grade 8. These younger players received great foundational instruction that will "serve" them throughout their volleyball years. Aimee was joined by a couple of the players to demonstrate skills and pass their knowledge along to the younger group. The growth over the 2.5 hours was quite remarkable.
The Spitfires look forward to spreading their love of volleyball throughout the year and hope to have another clinic in 2020. We wish all the players the best as they head toward tryouts and gear up for the new season!