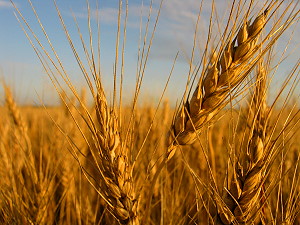 Northwest Region Crop Report Prepared by: Manitoba Agriculture
August 20, 2019 |
Northwest Region
Crops in the Northwest region again experienced a range in temperatures, with daytime temperatures reaching mid to high 20's, while over night temperatures dipped low with Roblin and Laurier area down to 1.9 and 1.4°C respectively. A quick thundershower in the Swan Valley region brought 5 to 20 mm. Most of the region experienced strong winds throughout the weekend as well. In general, areas that have been short of precipitation throughout the season are expected to have below average yield, while areas that did receive some precipitation expect to see average yields. The lack of soil moisture in some areas has become apparent recently as some crops have exhausted their efforts.
Field pea harvest continues in the Roblin and Swan Valley region – with yields so far reported as below to average. Pre-harvest glyphosate applications in spring wheat continue as staging is reached and harvest has started in the Swan Valley area; is underway in the Dauphin/Ste. Rose /Gilbert Plains area. Canola continues to mature throughout the region and swathing is underway in the Dauphin area, and a small start in the Swan Valley and Roblin areas. Soybeans are at the R4- R5 stage, but have been slow to fill; silage corn is cobbed and maturing; Fababeans continue to mature; flax continues to mature.
Bertha Armyworm larvae have started to show up in canola, with low numbers so far. A reminder to monitor regularly as a number of traps had counts that reached the "uncertain" category; these include Durban, Minitonas, Bowsman and Ste. Rose. Thistle caterpillar have also been noted in soybean fields. Grasshoppers continue to be an issue in crops and pastures/hayfields.
Greenfeed and cereal silage harvest continues with early reports of average yield. In the drier parts of the region, producers are hopeful corn silage will yield 10 tons/acre, far below normal. Livestock producers across the region are taking crops not worth harvesting for grain as greenfeed and silage including soybeans, wheat and canola. Fields that have been infested with weeds like kochia when spring forage establishment was unsuccessful are being put up for feed. Pea straw and grass seed residue are also being baled for feed. Sourcing of winter feed is well underway with producers considering straw based rations as well as purchasing hay where shortfalls are experienced. Very little to no second cut hay in much of the Ethelbert, Rorketon, Eddystone and Alonsa areas with yields reported to be about 30 to 50% of normal. Second cut alfalfa yields have been reported around 60% of normal in the Roblin and Swan River areas. Those fields that have not already been harvested for second cut should not be harvested until after a killing frost to respect the critical fall harvest period for winter survival.
Pasture conditions are diminishing quickly in the region, particularly continuously grazed pastures. Dugouts are also very low or dry around Ethelbert, Rorketon, Eddystone and Alonsa with dugout levels reported to be 0 to 40% of capacity. Around Roblin and Swan River, dugouts are at 30 to 50% of normal capacity.