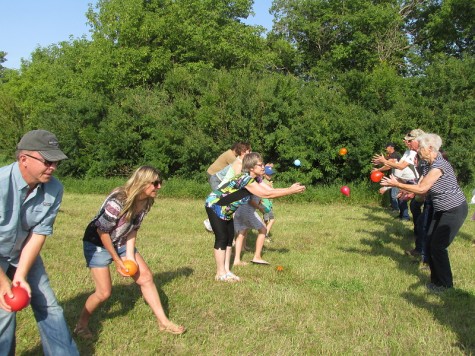 Submitted by: Debbie (Bell) Soloway |
This year the weather was great as the sun shone upon us and the flag flapped in the breeze. Everyone enjoyed seeing and petting the little puppy that Rita and Rhoda Jones brought for a visit.
The games were for all ages to enjoy together, they started off with the three legged race that had a few tumbles, then running races.
Next was the holey water can carrying water relay (this had some participants with wet pants and shoes) that had everyone cheering and laughing.
The final game was the water balloon toss (if you weren't wet yet chances are this game could change that) and all activities led to candy and peanut rewards.
This year we had returning guests, sisters Liz Stangeland and Louise Pacholuk (nee the Herc girls from the Dunkenville area) of Selkirk and new comers Lawrence & Ingrid Baschak from Regina, SK. We had close to 60 in attendance and it's great to see interest from people across the provinces along with our local valley residents. We gave a tribute to the committee members past and present along with family members from Renwer that have left us behind.
We had our special prayer titled Renwer before going into the old school to fill our plates.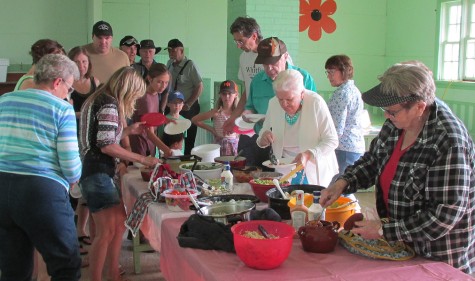 The potluck supper was delicious as usual with fresh dill & potatoes buns, beet leaf buns, fresh potatoes & tomatoes, baked beans, a variety of salads, barbequed burgers & hotdogs. The dessert table had fresh saskatoon treats, fresh cherries and other delicious dainties.

There were silent auction prizes, congratulations to the winners: Gloria Lewicki, Cliff Kostiuk, Elizabeth Yablonski, Tammy Denischuk, Debbie Soloway, Katie Zell and Margaret Zell.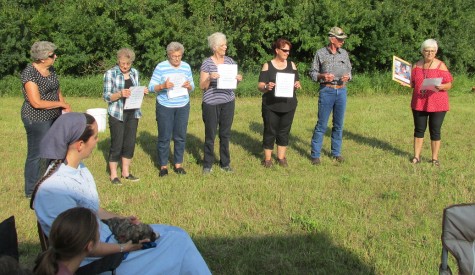 The 50/50 prize of $95.00 went to Tammy Denischuk & her Dad Elmer Zaretzky (thanks for the generous donation of $25.00 back to the committee).
Now it was time for the watermelon eating contest, so much fun, some chewed, others seemed to just swallow and some sat back and enjoyed the refreshing fruit, great family fun.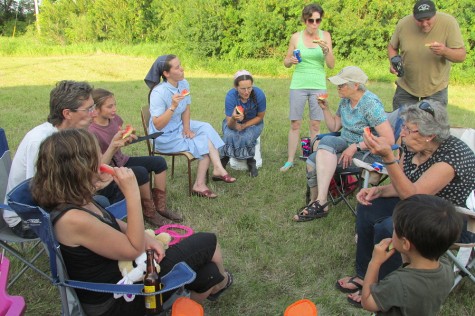 Thanks to all that look forward to meeting here each year and for all the praise; thanks for travelling (near & far), for bringing the wonderful stories and pictures from now and then, and the delicious food, to the Lewicki family for the use of the old Fisher's Siding School & property and doing all the maintenance work.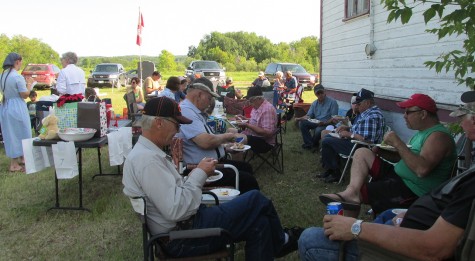 We will see you again next year on the Sunday before the Northwest Roundup Rodeo. So bring your family and tell a friend their invited to the little village of Renwer were they will enjoy Old Fashioned Fun and see an Old One Room Country School.