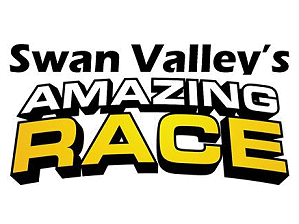 Submitted by:
Jocelyn Beehler |
Swan Valley's
Amazing Race
June 15, 2019
9:30 am – 5:00 pm
CBF Christian School
located on Hwy 83
Applications are Now Open for the Amazing Race!
Are you ready to win $1000 CASH? One of the teams in this year's CBF Race will take home the money… and many more will take home pit stop prizes… but will it be you? Do not miss out on this day of fun and competition!
We offer two different styles of entry – the competitive race and the recreational race. Entry fees are $50 (per team) and are the same for both styles of racing. Applications due no later than Saturday June 1, 2019 at midnight. Our race has a limit of fifty teams!
Competitive Race
In the competitive race two people compete as a team for the $1000 cash prize. Through the day…there may be eliminations, detours, U-turns, yields and road blocks similar to those on the T.V. show. Timing is everything.
Recreational Race
In the recreational race families can try their hand at the same challenges for prizes. There will be no eliminations for this style of race and it allows up to 4 members to play. (Not every member has to do every challenge)
Only fill out the application form for the race you are entering. Application forms are now available on our website: www.ManitobaRace.com You can fill in the application online in the fillable PDF format or download it and fill in and email back to apply@manitobarace.com. Or you can pick up an application form at CBF Christian School. Completed forms may also be returned to the school.
Spectators are welcome! The day will start and end at CBF Christian School located on Hwy 83 A. Challenges will take racers to different locations in the Swan Valley, coming and going from CBF Christian School. Spectators are welcome to come watch as teams arrive, complete challenges and go again. The race stops at 5:00 p.m.
If no teams have completed all challenges then the winner is the team that completed the most challenges the fastest. We will have an awards ceremony at 5:15 to recap the events of the day, share the winning teams and hand out prizes. Come watch and cheer your teams on. A concession will be available at CBFCS for lunch and supper.
The race is a fundraiser for CBF Christian School. As an added incentive to help fundraise for the school teams are able to take pledges. Each $1 raised will result in a 1 second advantage at the beginning of the race. There is a maximum of a 600 second advantage available for teams who help with fundraising.
For more information about the race, call Jocelyn at 204-734-2174.