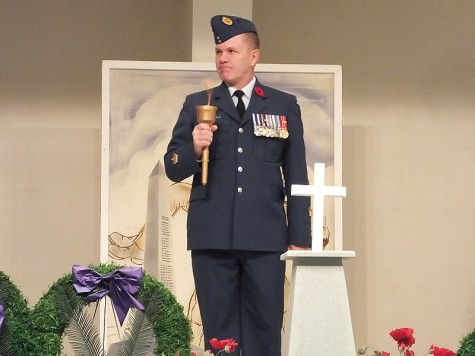 "Take up our quarrel with the foe: to you from failing hands we throw the torch; be yours to hold it high." – In Flanders Fields
ValleyBiz Story |
Taking up the torch was the theme of the Remembrance Day service in Swan River on November 11, 2018. The day of remembrance began with a march to the cenotaph in Swan River and the laying of three wreaths in honour of the Air Force, Navy and Army.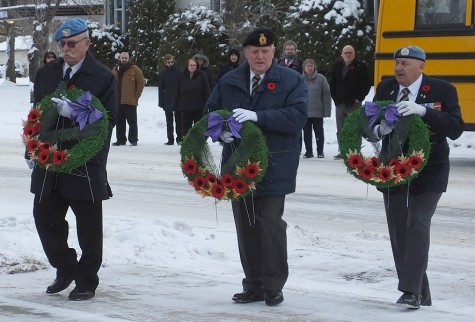 "On this Remembrance Day, we have arrived on that unique anniversary that causes us to reflect back, to help us to recognize more clearly the way forward." said Pastor Bob Lewis. "Today is the 100th Anniversary of that moment on the 11th Hour of the 11th Day of the 11th Month when the guns fell silent and what was called World War I ended in an armistice."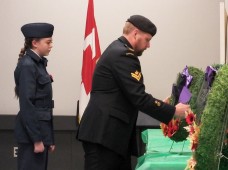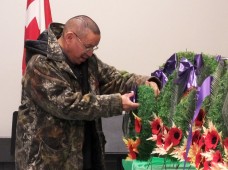 During the service, wreaths were laid by Veterans, organizations and community members in remembrance of those who took up the torch.

Pastor Lewis recounted his recent trip with Royal Canadian Air Cadets Squadron number 519 as they toured important WWI and WWII sites in Germany, Netherlands, Belgium and France. The visit to Vimy Ridge on a cold and misty day had a profound impact on Lewis. "Our memorial on Vimy Ridge expresses a range of emotions and hope, but the overall effect is that the beauty of human courage, compassion and even grief will overcome the ugliness of violence, terror and war." he said.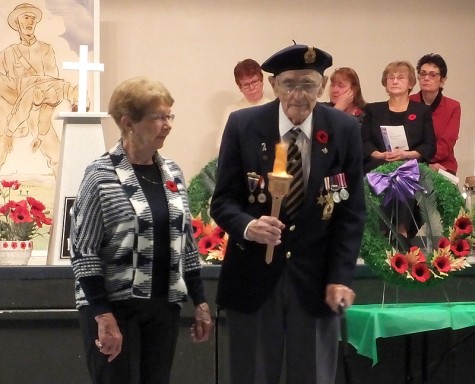 To begin the Torch Ceremony, Ronaele Greig picked up the torch on behalf of her Uncle Ira Staples and her Father Harold Staples who served in World War I. The torch was passed to World War II Veteran Keith Fulford, then from one hand to the next of those who have faithfully taken up the torch in service. The torch came to rest in the hands of Warrant Officer Shaun Delamere, representing the current generation of serving Canadian men and women.
The ceremony spanned wars, countries and generations; World War I – World War II – Korea – the Cold War – peace keeping missions, war within nations, war with neighbors – Afghanistan and recently, Operation Reassurance in Latvia.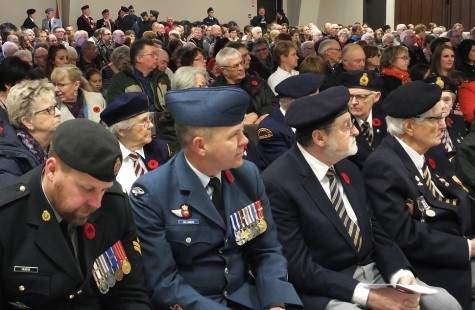 Pastor Lewis ended by saying, "If the people who care for our Canadian war cemeteries, and the people of Ypres who rebuilt their city, and the people who worked together to create our Vimy Ridge memorial and those poppies of Flanders Fields have something to tell us; the torch has also been passed on to you and me that we may fight for what is beautiful in life."