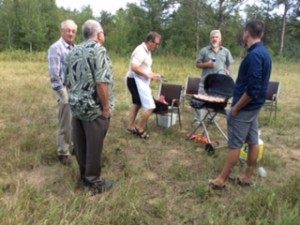 Submitted by:
Judy Kostyshyn |
Swan River NDP hosted their annual summer BBQ in the Cowan Community Centre on Sunday, August 19, 2018.
As constituents socialized throughout the afternoon, a delicious potluck supper was being organized in the kitchen with a variety of salads & desserts accompanying the barbecued pork.
A Silent Auction consisting of a variety of garden produce and miscellaneous items was held throughout the afternoon.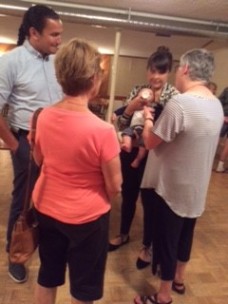 Guests at the event were NDP Leader Wab Kinew, his wife Dr. Lisa Monkman, and their recent addition to their family, son Tobasonakwut (pictured left).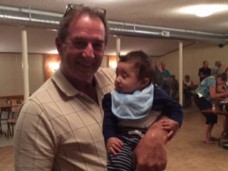 Wab spoke to the crowd and answered questions, which led to very interesting discussions on current matters.
A 50/50 ticket draw was held, with the following lucky winners: 1st prize Keith Doerksen; 2nd prize Mavis Fullerton; 3rd prize Cathy Wenstob. The evening concluded with a lively pie auction.
Ron Kostyshyn, President, thanked everyone for attending, as well as the volunteers who organized the event and all who helped throughout the event. The donations of potluck dishes, silent auction items & pies for the auction were acknowledged with gratitude.