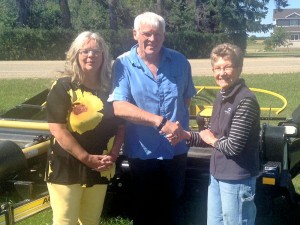 Submitted by:
Jaci Zbirun |
The Benito Ladies Auxilary were pleased to accept a very generous donation of $500 from Ag Shield Manufacturing for the renovations of the Benito Legion Hall.

Pictured above: Tom and Debbie McCrea of Ag Shield Manufacturing and Cora Coutts Past President of the Benito Ladies Auxilary.
Click any picture for a larger version.
The Benito Ladies Auxiliary also held a craft and yard sale on August 18 and 19, 2017 to raise money for the project. It was a beautiful weekend for our sale and we had a fabulous turn out.
People from all around came to enjoy great food and search for some new treasures at the Craft and Yard Sale tables. $2004.00 was raised to go towards renovations of the west wall, ceiling, kitchen and roof.
We would like to thank everyone who came to support and donate to our project. Without the support of our community the renovations for the hall wouldn't be possible.