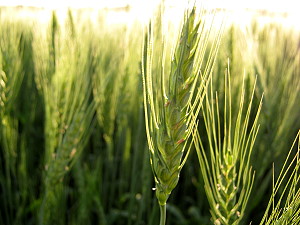 Northwest Region Crop Report Prepared by: Manitoba Agriculture
August 14, 2017 |
Northwest Region
High daytime temperatures have quickly advanced crops throughout the region. Localized rain early in the week will help contribute to crop yield in later and warm season crops. Rainfall amounts ranged from 6 to 28 mm in the Swan Valley; 11 to 22 mm in the Dauphin/Ste. Rose area with McCreary receiving 35 mm.
Some pre-harvest applications have begun across the region as crops ripen and conditions allow. Heavier crops have lodged from previous heavy rains/high winds and will pose a challenge at harvest. Swathing of canola has been reported in the Dauphin region, as well as combining of winter wheat and early seeded barley.
The majority of spring wheat is in the dough stage, with the remainder at milk. Approximately 90% of the canola is podded with 50% reaching the ripe stage in the Roblin area. Soybeans are podding. Pea and lentils crops have ripened and pea harvest is underway in the Swan Valley. About 50% of the flax in the Roblin area has reached the boll stage.
With the drier conditions this year and more native hay being accessible, native hay harvest is continuing. Second cut alfalfa is also being put up with yields varying from poor to good. The Pine River area is still struggling with hay harvest due to excess moisture. Cereal silage and greenfeed harvest has begun with further progress made in the Dauphin area. Pastures are holding up and those that received rain last week are in better condition. Additional rain would further benefit pastures in the region.