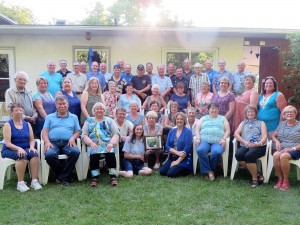 Submitted by:
Jayne Leadbeater |
On July 29th, 2017, Manitoba's Centennial Graduating Class of 1970 celebrated a Pension Party, OASP, in honour of their 65th Birthday.

Click picture for a larger version.
Jayne Minish Leadbeater organized a Potluck BBQ at her home with many classmates participating in the setup & take down the day before, as well that day. Carolyn McKay was the official detective searching for all of the class, compiling a huge database for our future 50th Anniversary, in 2020.
Those who attended were extremely happy this event transpired. Getting reacquainted were 44 classmates, 4 teachers and 16 spouses. And, Feedback indicated everyone decidedly enjoyed themselves!
Pictured above:
Back Row:
Jeff Gordon, Larry Henderson, Dave Doroshuk, Gordon Zamzow, Merv Innis, Bob McKay, Terry Boyachek, Larry Kooistra, Ed Cotton, Brian Oleksyn, Terry Johnson, Brian Zander, Lee Eggie, Garry Devlin, Ervin Allen, Cecil Ames, Wayne How, Rob Falk, Terry Neely
Middle Row:
Bill Majeski, Lorraine Mysczyszyzn Goodman, Wanda Eggie Palmer, Marg Hrappstead Neely, Penny Rooks Badowski, Doreen Barker Burton, Heather Woodward Jacobson, Gloria Olfrey Bewski, Kathy Sleeman Child, Wendy Curry Kraushaar, Joanne Nerbas Goodman, Jayne Minish Leadbeater
Front Row:
Hilda Prieston Sucre, Ed Chartrand, Marlene Ward Remple, Reid Minish, Judie Loat Milloy, Florence Brown Ward, Denise Gilsoul Gogal, Bobbie Wowchuk Stevenson, Angie Gryba Sasenuik, Carolyn McKay, Lyle Lumax, Julie Church Bell, Linda Cotton Kowalevsky, Vi Cotton Van Landeghem
Missing from photo: Wilma Rooks Colbert, Eugene Kowtzen, Rebecca Polachuk Wionzek