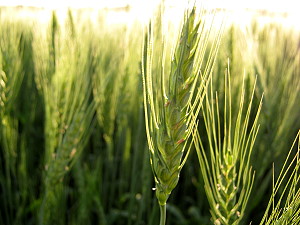 Northwest Region Crop Report Prepared by: Manitoba Agriculture
August 8, 2017 |
Northwest Region
High temperatures continued through the week. Crops are advancing with some heat stress symptoms obvious. Weekend rainfall resulted in 5 to 35 mm across the Swan Valley, 15 mm around The Pas, and up to 25 mm in the Dauphin and Roblin areas. Soil moisture ranges from adequate at The Pas and Swan River to dry through Roblin, and parts of Dauphin.
Crops are advancing quickly, with crop conditions ranging from good, where soil moisture is adequate, to fair in drier areas. Desiccation of winter cereals and fall is occurring and some harvesting has begun. Spring wheat is in the soft to hard dough stage. Canola is podded and in dry areas, aborted pods are showing up. Field peas are advancing quickly with reports of some fields desiccated. Reports of disease and insect activity are minimal, but enhanced scouting for Bertha armyworm and Diamondback larvae is encouraged to assess crop and insect staging as well as economic threshold levels.
Native hay harvest is ongoing and estimated to be 75% complete with above average yields. Wetter areas of the region are struggling to get hay stands cut and baled. Second cut beef quality hay harvest continues with average to below average yields expected in dry areas.
Cereal silage harvest is underway across the region with yields being reported as average to above average. Pastures are in fair to good condition and will benefit from rainfall.