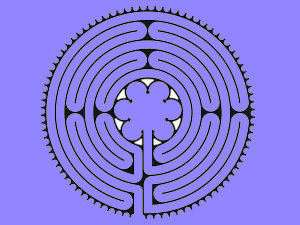 Submitted by:
Kevin Sprong |
Kenville United
Labyrinth Inauguration
Sat. August 5, 2017
10:00 am
Kenville United Church
Refreshments will be served.

What is a Labyrinth?
A labyrinth is an ancient spiritual practice of following a path to the center and by the same path out again. Something like a Journey inward to the heart of God and a journey outward to make a difference.
The event is a Spiritual walk of a Chartres labyrinth design. People have been walking the Labyrinth in Chartres Cathedral for at least 1000 years. Other ancient classical labyrinths have been walked even longer than that. It is a very personal journey with very little input except about the process of walking and reflecting. What happens between you and God, or your deepest self, is for your own deliberation.
For more information phone Kevin at 204-281-2402