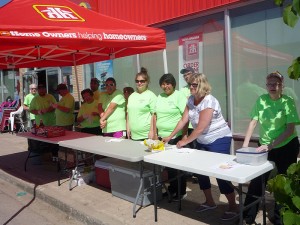 Submitted by Shirley Todosichuk |
Special Olympics Manitoba Parkland Region held its 3rd Annual Fundraising BBQ at Home Hardware Swan River on Wednesday, June 7th 2017 celebrating Special Olympics Manitoba Awareness Week.
Click any picture for a larger version.

With all of the overwhelming support of the Swan Valley community the volunteers worked hard to keep up to all of the orders.
Thanks to the generosity of the Swan Valley community over 440 delicious BBQ burger combos were sold raising over $1600 for our Parkland athletes.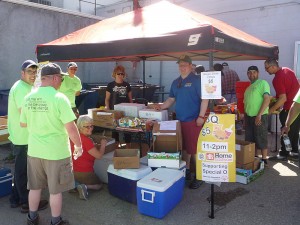 Pre-orders were filled at the back of Home Hardware. In blue, Special Olympics Manitoba Manager of LETR and Fundraising, Darren Anderson from Winnipeg was on hand to assist with orders.

Special Olympics Parkland would like to thank everyone who came out to support our Special Olympics Athletes by pre-ordering and purchasing lunch and we would like to thank you for your patience as we worked hard to fill the orders. We are also very thankful to the Swan Valley Lions Club members who come out every year to help us grill the burgers and to all of our volunteers who dedicate their time to assist the athletes.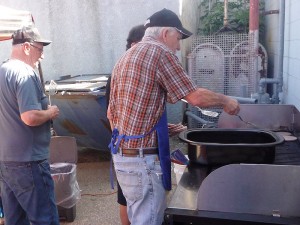 Thank you to our generous sponsors: Home Hardware, Swan Valley COOP, Extra Foods, Giant Tiger, Bee Gees Stationary, the Star and Times, Valley Biz, Old Dutch, SVSD and to the Bowsman Lions Club for use of their grill.

Swan River Lions Club members also generously donated their time to our athletes to grill up the burgers.
Many of the athletes at the fundraising BBQ will be attending the Special Olympics Manitoba 2017 Provincial Summer Games with events held in Brandon next weekend, June 16-18 and the Track and Field events held in Winnipeg on June 25th. The Parkland Region is sending over 25 athletes and coaches from the Swan Valley, Winnipegosis and Russell to the Games to compete in 5-Pin Bowling, Swimming, Bocce and Track and Field events.
Special Olympics Parkland Regional Team Leader, Bev Lumax states, "For many of our athletes this will be their first Provincial Games. They have trained hard and are ready for competition. The excitement level is high. They will meet old friends and make new friends. I'm sure they'll make Parkland Region proud." Good luck to our Parkland athletes!