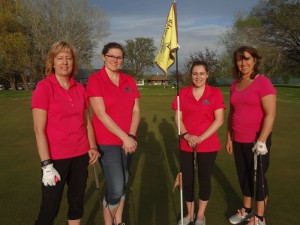 Submitted by:
June McKenzie |
Kal Tire sponsored the season's first Tuesday Nite Gals Golf event, the "Pink Ball Challenge" held on May 23, 2017.
Pictured left: The Kal Tire team wearing pink shirts for Cancer. Click any picture for a larger version.
Sunny skies shone down on the 43 ladies as their laughter could be heard across the course as each team tried to avoid elimination and not loose the Pink Ball.
Kal tire also provided and cooked the chicken for supper which was accompanied by delicious salads prepared by the golf club staff. Each golfer also received a free drink ticket and chance to enter the 50/50 draw.
A total of $195 was raised for local cancer funds from the sale of mulligans and 50/50 draw. This will be matched by Kal Tire for a great donation.
Please sign up for the FUN on June 13 for our next Wine & Cheese event nite sponsored by Formo Motors. Green fees for non-members is a reduced rate of $15 with another $15 for food and prizes. All ages and abilities are always welcome. Come with you girlfriends or join on with another team.
Tuesday Nite Gals Golf is held regularly from 4-7pm. Make a tee time by calling the golf club at 734-3935