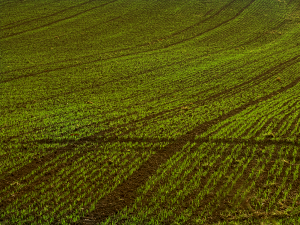 Northwest Region Crop Report Prepared by: Manitoba Agriculture May 23, 2017 |
Northwest Region
As a result of warmer weather and limited precipitation through the week, good seeding progress was made throughout most of the Northwest Region. Soil moisture remains excessive in various areas with fields worked and seeded in less than ideal conditions. Some frost was reported mid-week however most frost sensitive crops are expected to recover or were not yet emerged.
With the exception of the northern part of the region, overall seeding progress is estimated to be 50 to 70% complete. Seeding of the spring wheat crop is approximately 75 to 95% complete with the earliest planted fields starting to emerge uniformly. Canola is 40 to 50% done seeding and approximately 20% is starting to emerge. Other crops grown in the region include field peas, soybeans and flax. Most of the acres dedicated to these crops are starting to emerge.
Herbicide applications are being applied to the earlier seeded crops. There are reports of cutworm damage in the Benito area requiring spraying.
Forage growth remains slow across the region due to the cooler temperatures. Producers are reporting alfalfa winterkill and brown root rot. Fertilizer is being applied on forage fields that were previously too wet for field equipment especially in the Swan River area. Corn silage seeding is underway with 50% of fields planted in the Dauphin/Ste. Rose area and 70% in the Roblin area. Some fields require extra preparation to level wheel track ruts from last fall's wet conditions. Some cattle herds are being hauled out to pasture but require supplementation as forage growth is insufficient.