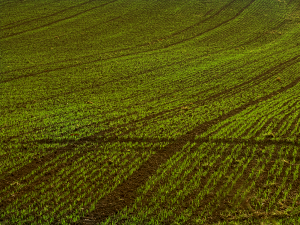 Northwest Region Crop Report Prepared by: Manitoba Agriculture May 15, 2017 |
Northwest Region
Seeding progressed at a good pace in the Northwest Region, where conditions allowed. Soil moisture is rated as adequate in most parts of the region.
There are low areas in some fields and some areas that have excessive moisture and wet fields. Top soil temperatures range between 5 to 10°C. There were rain showers throughout the region with amounts ranging from a high of 30 mm in The Pas, 13 mm in Swan River and Ste. Rose areas and trace amounts in the Roblin area. Temperatures remain cool with few days reaching a high of over 20°Celsius and overnight temperatures dipping down below zero Celsius.
There is continued progress on field operations including some harrowing, fertilizer applications, pre-seed herbicide applications, seeding of wheat, silage corn planting and some canola also going in the ground. Overall, seeding progress in the Northwest Region is estimated to be less than 40% complete.
Approximately 50 to 70% of the spring wheat crop is seeded in the Roblin and Swan River areas while seeding of peas is nearing completion. Canola seeding is underway with a start to soybean seeding however, many producers are delaying seeding soybeans and canola until after the middle of the month when soil moisture improves and risk of frost is reduced.
Volunteer plants, including cereals and canola, are evident in many fields. Weed growth including stinkweed, dandelions, hemp nettle, thistle, quackgrass and wild oats is general throughout the area. Insect activity level is low.
Forage growth remains slow across the region although this week's forecasted warmer temperatures should accelerate growth. Producers continue to monitor perennial stands for winterkill with some brown root rot showing up.