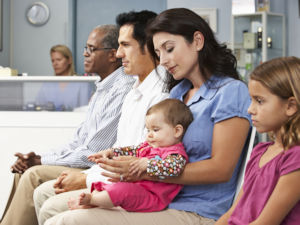 ValleyBiz Story |
The Swan Valley Primary Care Centre (SVPCC) continues to face the challenge of individuals simply not showing up for appointments. In 2016, there were 1,200 "no shows" – that's the equivalent of the SVPCC being closed for 3 weeks.
Stock photo
It is usually not possible to contact a patient on the cancellation list and have them arrive in time to fill a missed appointment. That time is just lost.
With the hope of recovering the time wasted by these missed appointments, the SVPCC has implemented a new option for patients requiring same day appointments. "If there are no available appointments that day, and you need to be seen, you will be encouraged to wait in clinic to see if something does become available." said Leisa Lukie, Primary Care Practice Supervisor in a written statement. "Unfortunately, this will not absolutely guarantee appointments. However, time that is wasted by a no show may, in the end, be utilized by someone who requires it."
Patient care at the SVPCC is currently provided by four full time physicians and two part time physicians as well as periodic coverage by a nurse practitioner and various locum physicians. Approximately 85 patients are seen each day at the SVPCC. Physicians are also responsible for providing services for hospital patients, Emergency Room on-call, chemotherapy, hemodialysis as well as long-term care assessments in Swan River and Benito.
The SVPCC is not yet working with a full complement of physicians, however Swan Valley resident, Dr. Savannah McKay, will officially join the team in July 2017 and other recruiting efforts are ongoing. "PMH, Swan River Valley municipalities and the Swan Valley Health Facilities Foundation continue working hard to recruit medical professionals to our area." said Lukie" "We have also opened the door to many medical students throughout the year and are dedicated to continuing this mentorship."