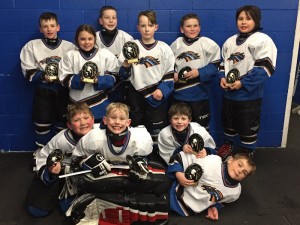 Submited by:
Chris Zamzow |
On February 18, 2017 the Swan Valley Novice Mustangs travelled to Roblin to compete in Roblin's eight team tournament.

Click picture for a larger version: Back Row L-R: Matt Zamzow, Peyton Lehmann, Griffin Klatt, Porter Atkinson, Walker Atkinson, Damian Leask Front Row L-R: Bryden Danielson, Parker Hulme, Kennedy Baskier, Austin Eisner
With recent star netminder Lincoln Staniland listed as day to day with a stomach flu, Austin Eisner stepped up and took on the goaltending duties for the Mustangs. Game one served double duty as it was both the first game of the tournament and Game 2 of the Mustangs vs Roblin playoff series with the Mustangs holding a 1-0 lead in the best of three series. The Mustangs played well and defeated Roblin 11-2 advancing in both their playoffs and in the tournament.
The next game pitted them against the Parkissimo undefeated Dauphin 1 team for their first meeting of the season. Dauphin outplayed and outshot the Mustangs. Five Mustang minor penalties, which the Dauphin team capitalized on, led to a 9-2 loss for the Mustangs.
For the A-side consolation final the mustangs faced the Grand Plains Hawks on Sunday. The Mustangs held a commanding 10-4 lead late in the second period. A third period shift in momentum ended with a close 10-8 final score in favor of the Mustangs.