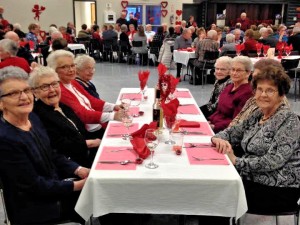 Submitted by:
St. Andrew's United Church
The 6th Annual Loving Hearts supper and entertainment was held on February 11, 2017 with approximately 190 guests enjoying the great food and entertainment.

Click any picture for a larger version.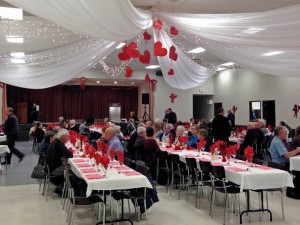 Our decorators did a splendid job of decorating the hall with valentine hearts, and the pretty red decorations just brighten the room!
The table favours were a hit too.

Our evening started with some enjoyable visiting while we waited for our table companions to gather and our caterer – Julie Nahnybida and her helpers put the finishing touches on a very scrumptious meal!
Our first entertainment group of the night was our choir of 13 girls led by Phyllis Friesen and accompanied on the piano by our very own Carolle Cowan! The girls sang to the delight of the crowd and entertained us with a few numbers. Thank you Phyllis and Carolle for preparing the choir for this evening.
This group was followed by the Dolyna Dance Group who never cease to amaze us with their skill and their superb costumes. How some of wish we could dance like that (including the jumps the young men can make).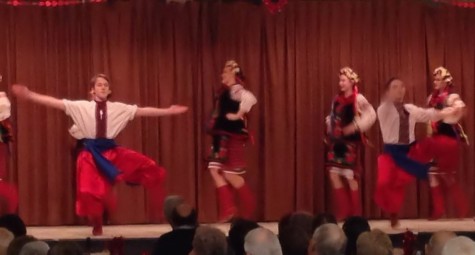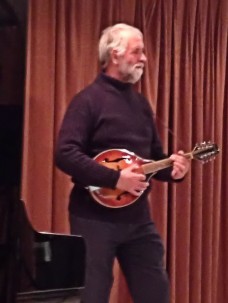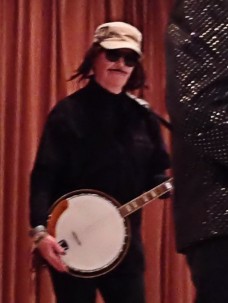 We then were entertained by Wes Lasuik – and he always finds some "guest" musicians to help him.
We are still trying to figure out that banjo picker.
Thank you to Wes, Kevin and Phyl.
Terri Boyd entertained us with a few numbers and had a guest artist with her – Chris Boyd her brother in law from Scotland! Terri just does a wonderful job of reading the crowd and singing some favourites along with other numbers that are just as lovely.
We would like to thank Terri and Ryan Boyd for their sound equipment and for making sure there were no poor seats in the house for sound! We would also like to thank Julie Nahnybida and her crew for another lovely meal. And last but not least our own folks who did so much work decorating, setting tables, selling tickets, picking things up, taking things back!