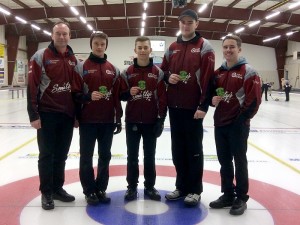 Submitted by:
Louise Watkins |
Team Oryniak assembled a team of talented young men to curl as a competitive Junior curling team for the 2016-2017 season.
Click any picture for a larger version.

Pictured above: Team Photo at Canola Junior Berth Spiel, Swan River, MB
Left to right: Coach Darren Oryniak, Myles Hunker(Lead), Carter Watkins(Second), Brad Van Achte(Third), Weston Oryniak(Skip)
Not Pictured: Assistant Coach/Manager – Louise Watkins
Each individual player boasted previous curling accomplishments and through their play this season, proved their talents continue to grow. As a team, they built on their strengths having increased success as the season progressed.
They made their mark on a Provincial scale by beating the best and winning several notable events. Their first place finish at the Sunlife Financial Junior Challenge 2016 hosted by Brandon Curling Club at the Keystone Centre is an Invitational Event with U21 Junior teams from across Canada and the US. Champion of the Manitoba Junior Curling Tour 2016 was a hard fought battle playing four games on Sunday to cap off the victory and title for 2016. The Team earned their U21 Berth for Canola Junior Provincials at the Berth Spiel hosted by Swan River Curling Club in November. They placed 5th overall at the U21 Canola Junior Provincials, one point shy of making the playoff round for the Provincial Title.
All Members of Team Oryniak are also Associate Members of the Swan River Men's Curling Club and vied for an opportunity to represent the Parkland Region at the Viterra Men's Provincials. They reached both finals for two spots but were denied the winning title.
The Team's success would not be possible without the on going support of our families and community. We wish to thank the valued sponsors who provided financial support to our Jr. curling team during the 2016-2017 season. They include – Platinum sponsors: Smitty's, Swan Valley Chiropractic Centre – Dr. Neal Watkins, Silver Sponsors:Asham Curling Supplies, Investors Group – Swan River/Kelly Kirkpatrick, Gerry & Nicole Hunker, Bronze Sponsors:Henderson Vision Centre, and Madison Square Dental Centre. We appreciate your interest and contributions toward helping us achieve our goals!
Once again, thank you for all your contributions and good wishes of support to our Team all season long!