Submitted by:
Nicole Clouson |
The Swan River Dolyna Dancers held their annual Old Fashioned Christmas concert on Monday December 5, 2016. As usual they performed to a packed house, a nice short and sweet show.

Click any picture for a larger version.
Each group got to present the crowd with what they've learned so far and we can't wait to see them again at the final concert in April!
Guests were treated to a potluck of Christmas baking and juice and tea at intermission and the $1000 draw was made at that time. Congratulations to Kathy Olson of Minitonas who was the first prize winner!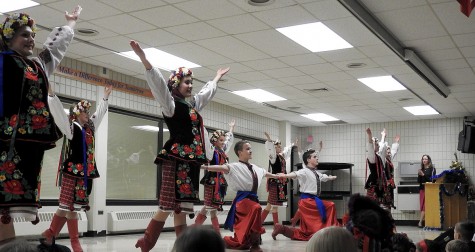 Guests were also able to buy tickets for a number of silent auction prizes and door prizes were drawn for poinsettias. After the dancing was over, kids were excited to see Santa show up and receive a goodie bag and wrap up the evening.
Huge thanks to our instructors Kelsa Unruh and Joe Synk for all the hard work they've put into the dances this fall. Also thanks to parents and family/friends who helped organize the concert. Our dancers always put on a lovely performance and look forward to our concert to kick off the Christmas season.