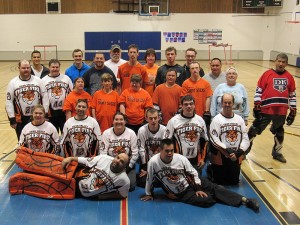 Submitted by:
Shirley Todosichuk |
On Sunday, Nov 20, 2016 the Special Olympics Manitoba Parkland Region held its first Floor Hockey Skill Development Clinic at the Lt. Colonel Barker V. C. School in Dauphin.

Click picture for a larger version.
The Riding Mountain Rebels comprising of athletes from Winnipegosis and Dauphin and the Swan Valley Tiger Fire Floor Hockey Team from Swan River enjoyed the action-packed day. Coaches Luke Love and Ryan Sinclair of Winnipegosis, June Mosiondz of Swan River and Bryan McCorrister of Portage La Prairie did a great job with skills instruction and running the stations to develop shooting, passing and stick handling skills and everyone enjoyed the scrimmage that put these kills in action. All of the floor hockey athletes will be training hard and looking forward to competing in the Parkland Region Floor Hockey Tournament in Swan River on Saturday, January 14, 2017.