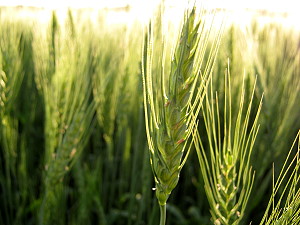 Northwest Region Crop Report Prepared by: Manitoba Agriculture August 2, 2016 |

Northwest Region
There was thunderstorm activity throughout the Northwest Region over the weekend. However, actual rainfall amounts were variable; amounts ranged from 15 mm north of Roblin area to 23 mm in parts of The Pas to minimal amounts in the Swan Valley. Some crop lodging due to rain and/or wind is evident throughout the entire region. There was some light hail north of Roblin and severe weather in the Dauphin area, but no significant damage has been reported as of yet. Soil moisture conditions are variable, ranging from adequate in most areas to excessive in some parts of the Swan Valley, The Pas and south of Ste Rose. Crops in these areas, especially canola, are showing the effects of excessive moisture with yellowing and crop loss in low lying areas. In general, most field crops throughout the region continue to advance nicely and are in relatively good to excellent condition, with the exception of poor canola fields in those areas impacted by excessive moisture.
With regards to crop stage of growth, fall rye and winter wheat crops are starting to mature and some winter cereal harvesting began in the Dauphin area. The perennial ryegrass harvest is also underway. Most spring wheat is in the dough stage with some color change. Some areas have potential for high protein wheat. Canola continues to develop rapidly with roughly 10% of the canola flowering and 90% podded. Field peas are also advancing quickly with reports indicating that approximately 95% of the field peas are podded with some excellent yield potential in the Roblin area. The majority of the soybeans are in the R7 to R8 stage of growth.
Aster yellows are reported in canola in the Swan Valley; low levels are reported to date. Some oat blast in the Roblin area is reported. Reports of disease and insect activity are minimal but producers continue to monitor crops closely for the presence of any pest activity.
Favorable weather conditions last week finally allowed for good progress with haying operations. Some first cut was still being put up and second cut harvest has begun as well. Some chopped silage was harvested around Makinak. In addition, grass seed residue is being baled for feed. Pasture growth ranges from abundant to adequate.