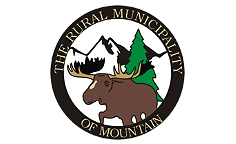 The Rural Municipality of Mountain
Minutes of the Special Council Meeting of the Rural Municipality of Mountain held Monday, April 25, 2016 in the R.M. of Mountain Council Chambers in Birch River, Manitoba.
Members Present:
Reeve: Marvin Kovachik
Councillors:
1
2 –
3 –
4 – Connie Forbes
5 –
6 – Brad Wyatt
Attending by communication facility [By-law 01/16]:
2 – Stephen Nadolney
5 – Jesse Larocque
CAO Robin Wiebe was present and acted as secretary.
The meeting was called to order at 10:07 A.M. by Reeve Marvin Kovachik, quorum being present.
Wyatt
Forbes
BE IT RESOLVED THAT Council of the Rural Municipality of Mountain hereby accept the RFQ [Request for Quotation] from Gerry Stevenson attached hereto as Schedule 'A", to proceed with garbage pick-up/haul;
AND THAT the Reeve and CAO be authorized to sign on behalf of the municipality.
CARRIED.
Forbes
Larocque
BE IT RESOLVED THAT the Special Meeting of Council of the Rural Municipality of Mountain be adjourned to meet again on May 11th, 2016.
The meeting adjourned at 11:00 a.m.
CARRIED.