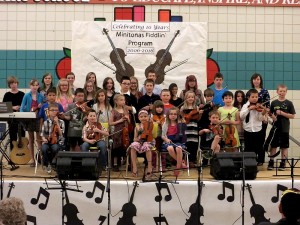 Submitted by:
Shirley Todosichuk |
The Minitonas Fiddlin' Program celebrated 10 years of instruction, promotion and preservation of Fiddling music at their 10th Annual Spring Concert in Minitonas on Wednesday, May 18, 2016.
Click any picture for a larger version.
This was a wonderful milestone for the Minitonas Fiddling Program and for all of the students who have run their bows across the strings and have been inspired by the gifted instructors and great performing artists along the way.
Peter and Christina Fleming established the program in 2006, as their daughter Tayler had an interest in playing the fiddle. They were instrumental in the growth and development of the program and worked tirelessly to bring well-respected musicians in the fiddling circle to the Valley such as Sierra Noble, John Arcand, Jason Appleyard, Brad Moggie, Alex Lamoureux, JJ Guy and Daniel Koulack for workshops and concerts. This was all done to inspire the students, to foster a love of fiddling music and to develop their musical skills. Christina and Peter continue to be involved in the program as they provide the sound system and monitoring for the concert and are consulted upon all things fiddle.
It was very exciting, after 10 years to have not only Christina and Peter Fleming in attendance but also Desmond Lagace, the first instructor of the program and Dennis Kalynuk Principal of the Minitonas Early Years School at the time of the program's inception.
Over the years the program has included guitar lessons and has had 3 incredible instructors-Desmond Lagace for 8 years, Marcel Hapel for one year and our most recent instructor, Lyneta Grenier from Hudson Bay.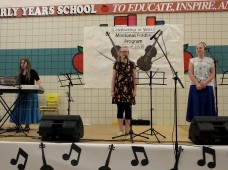 This year there were 33 students enrolled in the program and there was some fine fiddling at the concert.
The Janzen sisters lead the audience with O'Canada.


The opening act were first year students Kennedy Baskier, Caleb Sloane-Gillander, Lakeisha Dietz, Kiari Watson and Hallie Kichuk playing Open String Blues. 2nd year students Tina Copeland, Bria Boychuk and Austin Eisner made Hot Cross Buns look easy.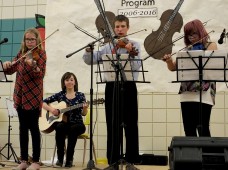 Callie Immerkar, Jay Todosichuk and Jayden Beauchamp, 6th year students, skillfully played Memories of Emma Lake and Morrison's Jig.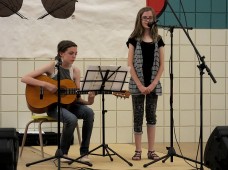 First Year Guitar student Katie Smith strummed and sang "A Life That's Good" with her sister Jenna Smith.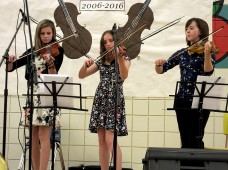 Kristen Boychuk and Bryn Zamzow, 7th year guitar students enjoyed performing Gigue de sucres and Lieutenant Governors Waltz.

First Year Guitar students; Stephan Kovachik, Leo Chartrand, Katie Smith, Tynisha Dietz and Jake Bartel played Au Claire de la lune and Ode to Joy.

Amazing Grace and Coming Home was performed by Bryn Zamzow (3rd year guitar) and Autumn Klekta (2nd year guitar) and Katie Smith and Tynisha Dietz on vocals.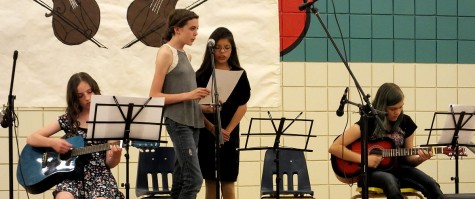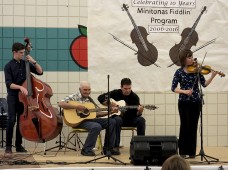 Minitonas Fiddling Program Instructor, Lyneta Grenier made magic and brought out the soulful and happy music of the fiddle with To the Ladies, Irish Washerman, a spirited two-step, Shannon's Waltz, Ste. Anne's Reel, Canada Day Swing and Smash the Window.
Guest Performer for the evening and previous program instructor Desmond Lagace's high energy performance of great fiddling and banjo tunes left the audience wishing he would play all night. Accompanying Desmond were his father Gus Lagace on guitar and son Desi Lagace on bass, both of whom are gifted musicians in their own right. The multigenerational trio treated the audience to Caber Feigh, Lord McDonald's Reel, The Fur Trader's Reel, Cripple Creek (banjo), Foggy Mountain Breakdown (banjo), Cross Country Waltz and Buffalo Hunt Reel. Desmond ended the show with an encore performance of Maple Sugar.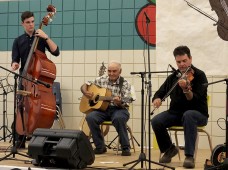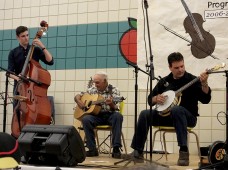 A very big thank you to all of the community organizations, NWMC, Swan Valley School Division, MEYS, MMYS and Miles Jones, Kevin Penner, all the Fiddling Families, volunteers and supporters who have kept the program going for 10 years!