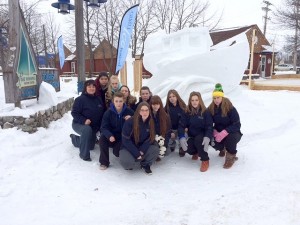 Submitted by:
Lise Fraser |
The Swan Valley Girls JV Tigers basketball team poses for their 'sink the ship' moment.
The Tigers beat Dauphin for the Zone Championship in two games straight.
Click picture for a larger version.
The Tigers will face Virden on Wednesday, March 2, 2016 at 4:00 pm at SVRSS in an Interzone game for a berth at the AAA Basketball Provincials. Come out and support the team.