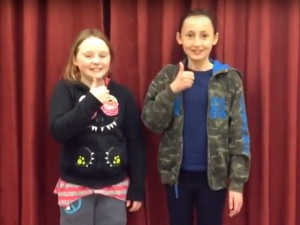 ValleyBiz Story |
The Birch River Grade 6-8 class, taught by Ms. Kayla Vibe, received official notification on February 11, 2016 that they were selected as the winner of the Election Manitoba CitizenNext Video Challenge in the grade 7-8 category.
Click picture for a larger version.
As the winners in the category the class received a pizza party for their class and a $500 grant toward the charity of their choice. "They were more excited about giving to the charity," said Principle Nicole Bobick, "It was awesome!" Putting the democratic process into practice, the class compiled a list of potential charities and conducted a vote to determine the top 2 charities with $250 going to the Manitoba Heart and Stroke Fund and $250 to the Swan Valley Animal Protection League. "We are hoping that these contributions will help save animal and human lives alike." said the class.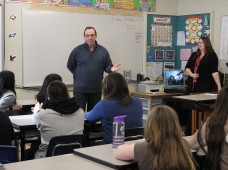 Minister Ron Kostyshyn, who participated in the first video challenge back in October, 2015, visited the school on February 12, 2016 to offer his congratulations and words of encouragement for the next generation of voters.

During the competition, the class researched 3 specific topics and created an original 5-minute video response. Click on any of the videos below to see the classes productions which include an original song written by one of the students and performed by the class.
Who's Reppin' Me

Stand Up

Vote … Or Else