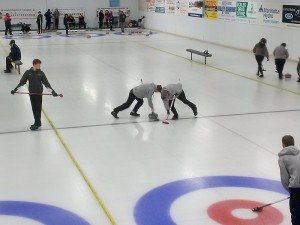 Submitted by:
Leigh Osatchuk |
The 9th Annual Mixed Bonspiel was held in Benito from Feb. 9-14, 2016 hosted by the Benito Rec Centre. 30 teams from around the Swan Valley & bordering Saskatchewan communities came together to compete in 4 events.
Click any picture for a larger version.
The week of activities consisted of two home games for the Kenville Flyers hockey team, free public skating throughout the week, Zumba classes on Wednesday, lounge entertainment on Saturday, a Lucky Draw Auction, a Pancake Breakfast on Saturday morning (hosted by the Benito Childcare Centre) and Saturday night sit down banquet for all curlers and company, and a fabulous "pick-a-prize" for the lucky event winners.
Thank You to all our sponsors and donors, and thank you to everyone who came out to watch some curling.
1st Event Winner:
Brad Knutson Rink-Norquay
Brad Knutson (Skip), Richard Johnston (third), John Knutson (second), and Vi Knutson (lead)
1st Event Sponsor – Swan Valley Credit Union-Presenter, Kim Pierce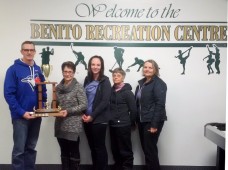 2nd Event Winner:
Lenore Kinaschuk Rink-Benito
Lenore Kinaschuk(skip), Kristen Harness (third), Pat Lyons (second) and Louise Schabert (lead)
2nd Event Sponsor – W.F Schneider & Sons-Presenter, Scott Schneider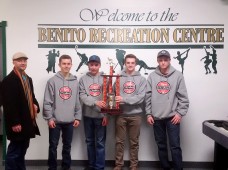 3rd Event Winner:
Carter Watkins Rink-Swan River
Carter Watkins (skip), Mason Kujanpaa (third), Carter Chev (second), Tynan Metcalfe (lead)
3rd Event Sponsor – J.A Lyons Memorial Trophy-Presenter, Jody Lyons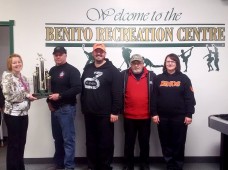 4th Event Winner:
Rick Kinaschuk Rink-Benito
Rick Kinaschuk (skip), Bill Woytkiw (third), Tom Lyons (second), and Marlene Mullin (lead)
4th Event Sponsor- Crop Production Services-Presenter, Rubieann Kluke