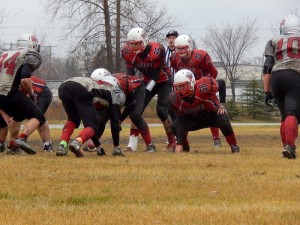 Submitted by:
Leigh Osatchuk |
The rain didn't deter the fans from coming out to cheer on the Swan Valley Tigers as they hosted the ParkWest Outlaws in the Provincial Semi Final.
Each team took the field with the dreams of moving on to the next stage.
Click any picture for a larger version.
ParkWest proved very shortly that they were not intimidated with Swan Valley's 7-0 record with a 2 point lead. The Tigers seemed to have some difficulty handling the slippery ball and judging their footing on the soggy field. The Outlaws again struck and by the half the score was 0-6 and it seemed as though all hope was lost.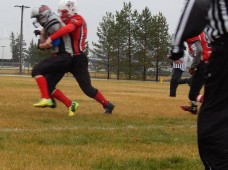 As the rain continued the teams returned to the field. Our boys made great efforts with pushing through their strong defense.
Brendon Gilroy was an absolute brute rushing the ball, and stopping their offense as well.
Finally near the end of the third quarter #20 Robin Seib did some razzle dazzle and came out of the pile running – with the ball! Touchdown Tigers! The crowd responded with new found hope as we were on the board and in the game, after the convert was good – we were in the lead by one point.
The fourth quarter seen a kick return and ParkWest returned the ball for a complete field run and scored a touchdown. These gentleman haven't felt a loss all season, and it seemed as though this crucial game would be the stinger. Their convert wasn't successful and they were leading 12-7. The ball made its way back and fourth with both teams struggling to make any ground, the rain was the biggest factor to overcome.
As The Outlaws kicked on third down from their 30 yard line, #58 Chayce Osatchuk charged the kicker and blocked the ball sending it to the ground and the players scampering for recovery.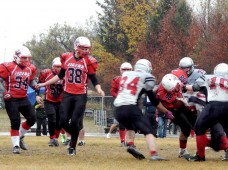 Osatchuk came up the successful, and the offense took the field where they regained momentum and Eric Klein took the ball to the endzone for the final touchdown, ending the play with a field goal. As the clock wound down, fans and players chanted with the Tigers claiming the win 14-12.

The Doug Steeves Trophy game will be played on Saturday, November 7th at the SVRSS Field. ALL are welcome to come and cheer on The Swan Valley Tigers who are hoping to defend their Championship title. Time will be announced.