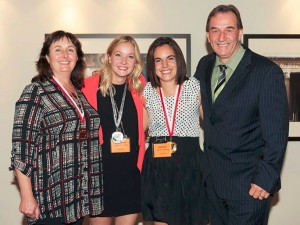 ValleyBiz Story |
Cori Poon (Hofford) and Carly Minish, who both grew up in the Swan Valley, submitted the top two winning food entries at the 2015 Great Manitoba Food Fight, a competition for Manitoba food entrepreneurs who have developed new and/or innovative food products.
(Facebook | MB NDB Caucus)
Pictured Above: Glenda Hart, Carly Minish, Cori Poon,
Minister Ron Kostyshyn
"Can you tell we are excited!? Swan Valley girls take home gold and silver at the 2015 Great Manitoba Food Fight!" said a post on the smakdabmustard instagram page.
Cori Poon, Sweet C Bakery – Gold
Lime and Toasted Coconut Cookie Dough
This made-from-scratch gourmet cookie dough is pre-portioned into single serving balls, sold by the dozen in a re-sealable freezer bag and ready for baking. This cookie dough is available in several delicious flavours and is conveniently baked and ready in minutes.
Carly Minish, Smak Dab Foods – Silver
Maple Mustard
This innovative gourmet mustard product has a pleasantly sweet yet savory flavor that can be used as a dip or a condiment. It is made in small batches with simple ingredients and crafted with care.
Ten competitors participated in the Great Manitoba Food Fight on October 14, 2015 at De Luca's Specialty Foods Store in Winnipeg. A panel of judges awarded three product development and service award packages to the following competitors:
Cori Poon/lime and toasted coconut cookie dough:
Gold package (approximate value – $11,000)
Carly Minish/maple mustard:
Silver package (approximate value – $7,000)
Glenda Hart/birch bacon jam:
Bronze package (approximate value – $3,500)
"We want to help food entrepreneurs see their creations on store shelves for everyone to enjoy," said Agriculture, Food and Rural Development Minister Ron Kostyshyn. "Each year, the Great Manitoba Food Fight uncovers some of the best new food ideas in the province. It also gives the innovative people behind them a jump start to take their product to the next level, toward commercial success."
.