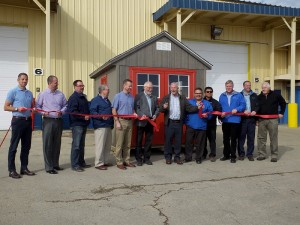 ValleyBiz Story |
Louisiana-Pacific Corporation (LP) held a ribbon cutting ceremony on September 23, 2015 for the conversion of its Swan Valley, Manitoba, OSB mill into an engineered wood siding mill.
Click above picture for a larger version.
Dignitaries from around the area joined LP officials in celebrating the conversion project, which involves retooling the mill from producing oriented strand board (OSB) to making LP SmartSide® siding.
LP selected the Swan Valley mill for conversion because of its strong workforce and proven performance in manufacturing commodity OSB from a safety, quality and environmental perspective.
"When we were considering which LP mill would be best to do this conversion to siding it quickly became clear to us that Swan Valley had everything we needed." said Brian Luoma, Executive VP of Siding "What we knew we had here were experienced, innovative, proven, can do people. A workforce in this area and a workforce at this plant were probably the key feature in us making the decision to take this on."
"This is an important moment in LP's history," CEO Curt Stevens said. "For the first time, LP will manufacture our popular strand-based engineered wood siding in Canada." LP is expanding its capacity to produce SmartSide because of growing demand as engineered wood siding continues to displace fiber cement, vinyl and wood in the marketplace.
The more than $100 million (CDN) project will create close to 50 new jobs. The conversion is expected to be completed next month with production beginning shortly thereafter.