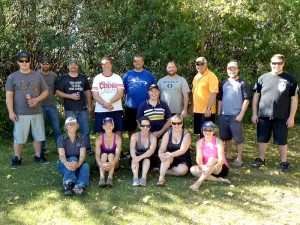 Submitted by:
Jocelyn Beehler |
The Shaker City Fall Tournament took place in Benito on Saturday, August 19, 2015.
16 individuals played in 3 divisions: Beginner, Intermediate and Advanced.
Pictured Above, Left-right: Back:Ramsey Macooh, Darryl Vanderschaaf, Mark Kerr, Brent Thomas, Darryl Izzard, Pat Harness, Rick Kinaschuk, Tyson Kinaschuk, Braden Thomas Middle: Scott Beehler, Front: Winona Bielik, Jocelyn Beehler, Kristin Harness, Kyla Kluke-Mullins, Lenore Kinaschuk. ( missing from photo was Curtis Dobbins).
Click any picture for a larger version.
Players played 18 holes in the morning and then another 18 after lunch. Thanks to Buffalo Junction for the wonderful lunch that was delivered right to the course. The results of the tournament were as follows: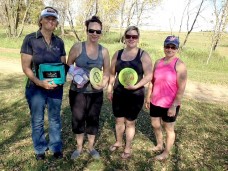 Beginner Division: (Played for prizes)
1st Place: Winona Bielik
2nd Place: Kristin Harness
3rd Place: Kyla Kluke-Mullin
4th Place: Lenore Kinaschuk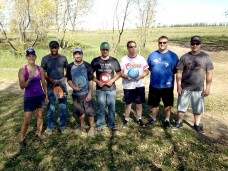 Intermediate Division:
(Played for prizes)
There was a 3-way tie for 2nd place and the following results were after a play-off. There were only 10 throws difference between the scores from first-eighth place.
1st Place: Jocelyn Beehler
2nd Place: Darryl Vanderschaaf
3rd Place: Tyson Kinaschuk
4th Place: Mark Kerr
5th Place: Brent Thomas
6th Place: Curtis Dobbins
7th Place: Darryl Izzard
8th Place: Ramsey Macooh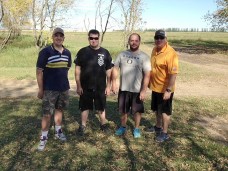 Advanced Division:
(played for cash prize)
This division played a more complicated course with out of bounds penalties, and mandatory directions
1st Place: Scott Beehler
2nd Place: Braden Thomas
3rd Place: Pat Harness
4th Place: Rick Kinaschuk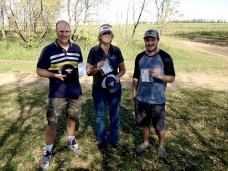 CTP Winners:
An additional challenge was playing for CTP (closest to pin).
Each division also had a specific hole that they would compete on to see who had the longest throw that was closest to the basket. Winners were as follows:
Beginner Division: Winona Bielik
Intermediate Division: Tyson Kinaschuk
Advanced Division: Scott Beehler
Curtis Dobbins (missing from photo)
Lenore Kinaschuk
Darryl Izzard
Thanks to all the players for their dedication to disc golf, to Shaker City Disc Golf Supply and Crystal Englot for contributing prizes. It was wonderful to have such a beautiful day and a good turn-out.